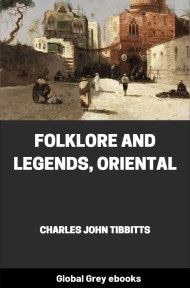 Folklore and Legends, Oriental
Charles John Tibbitts
Format: Global Grey free PDF, epub, Kindle ebook, or read online
Pages (PDF): 122
Publication Date: 1889
Download Links (below donate buttons):
Stripe:
---
PDF
ePub
Kindle
Online
Summary:
This is an anthology of tales from several widely separated Asian story-telling traditions, with the center of gravity somewhere in Persia. The book is meant to be enjoyed as light reading, and the stories are unattributed and uncredited. The tales originate from Arabian, Persian, Indian, and Kalmyk sources, and have Islamic, Hindu, Buddhist and Zoroastrian elements.
More free ebooks:
Excerpt:
In the great city of Isfahan lived Ahmed the cobbler, an honest and industrious man, whose wish was to pass through life quietly; and he might have done so, had he not married a handsome wife, who, although she had condescended to accept of him as a husband, was far from being contented with his humble sphere of life.

Sittâra, such was the name of Ahmed's wife, was ever forming foolish schemes of riches and grandeur; and though Ahmed never encouraged them, he was too fond a husband to quarrel with what gave her pleasure. An incredulous smile or a shake of the head was his only answer to her often-told day-dreams; and she continued to persuade herself that she was certainly destined to great fortune.

It happened one evening, while in this temper of mind, that she went to the Hemmâm, where she saw a lady retiring dressed in a magnificent robe, covered with jewels, and surrounded by slaves. This was the very condition Sittâra had always longed for, and she eagerly inquired the name of the happy person who had so many attendants and such fine jewels. She learned it was the wife of the chief astrologer to the king. With this information she returned home. Her husband met her at the door, but was received with a frown, nor could all his caresses obtain a smile or a word; for several hours she continued silent, and in apparent misery. At length she said—

"Cease your caresses, unless you are ready to give me a proof that you do really and sincerely love me."

"What proof of love," exclaimed poor Ahmed, "can you desire which I will not give?"

"Give over cobbling; it is a vile, low trade, and never yields more than ten or twelve dinars a day. Turn astrologer! your fortune will be made, and I shall have all I wish, and be happy."

"Astrologer!" cried Ahmed,—"astrologer! Have you forgotten who I am—a cobbler, without any learning—that you want me to engage in a profession which requires so much skill and knowledge?"

"I neither think nor care about your qualifications," said the enraged wife; "all I know is, that if you do not turn astrologer immediately I will be divorced from you to-morrow."

The cobbler remonstrated, but in vain. The figure of the astrologer's wife, with her jewels and her slaves, had taken complete possession of Sittâra's imagination. All night it haunted her; she dreamt of nothing else, and on awaking declared she would leave the house if her husband did not comply with her wishes. What could poor Ahmed do? He was no astrologer, but he was dotingly fond of his wife, and he could not bear the idea of losing her. He promised to obey, and, having sold his little stock, bought an astrolabe, an astronomical almanac, and a table of the twelve signs of the zodiac. Furnished with these he went to the market-place, crying, "I am an astrologer! I know the sun, and the moon, and the stars, and the twelve signs of the zodiac; I can calculate nativities; I can foretell everything that is to happen!"

No man was better known than Ahmed the cobbler. A crowd soon gathered round him. "What! friend Ahmed," said one, "have you worked till your head is turned?" "Are you tired of looking down at your last," cried another, "that you are now looking up at the planets?" These and a thousand other jokes assailed the ears of the poor cobbler, who, notwithstanding, continued to exclaim that he was an astrologer, having resolved on doing what he could to please his beautiful wife.

It so happened that the king's jeweller was passing by. He was in great distress, having lost the richest ruby belonging to the crown. Every search had been made to recover this inestimable jewel, but to no purpose; and as the jeweller knew he could no longer conceal its loss from the king, he looked forward to death as inevitable. In this hopeless state, while wandering about the town, he reached the crowd around Ahmed and asked what was the matter. "Don't you know Ahmed the cobbler?" said one of the bystanders, laughing; "he has been inspired, and is become an astrologer."

A drowning man will catch at a broken reed: the jeweller no sooner heard the sound of the word astrologer, than he went up to Ahmed, told him what had happened, and said, "If you understand your art, you must be able to discover the king's ruby. Do so, and I will give you two hundred pieces of gold. But if you do not succeed within six hours, I will use all my influence at court to have you put to death as an impostor."

Poor Ahmed was thunderstruck. He stood long without being able to move or speak, reflecting on his misfortunes, and grieving, above all, that his wife, whom he so loved, had, by her envy and selfishness, brought him to such a fearful alternative. Full of these sad thoughts, he exclaimed aloud, "O woman, woman! thou art more baneful to the happiness of man than the poisonous dragon of the desert!"

The lost ruby had been secreted by the jeweller's wife, who, disquieted by those alarms which ever attend guilt, sent one of her female slaves to watch her husband. This slave, on seeing her master speak to the astrologer, drew near; and when she heard Ahmed, after some moments of apparent abstraction, compare a woman to a poisonous dragon, she was satisfied that he must know every- thing. She ran to her mistress, and, breathless with fear, cried, "You are discovered, my dear mistress, you are discovered by a vile astrologer. Before six hours are past the whole story will be known, and you will become infamous, if you are even so fortunate as to escape with life, unless you can find some way of prevailing on him to be merciful." She then related what she had seen and heard; and Ahmed's exclamation carried as complete conviction to the mind of the terrified mistress as it had done to that of her slave.
---
---
⇧ Back to top
---