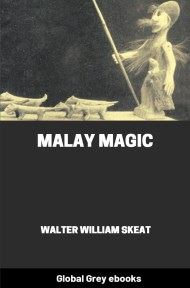 Malay Magic
Walter William Skeat
Format: Global Grey free PDF, epub, Kindle ebook, or read online
Pages (PDF): 522
Publication Date: 1900
Download Links:
I run this site (and create these ebooks) by myself. Please help out by making a small payment donation of £1, or whatever you can, for this book. It only takes a minute and you don't need a PayPal account.
PDF
ePub
Kindle
Online
Stripe(£GBP):
Summary:
Being an introduction to the folklore and popular religion of the Malay Peninsula. Chapters include: Man and His Place in the Universe; Relations with the Supernatural World; The Malay Pantheon; and Magic Rites.
More books you might like:
Excerpt:
The circumstances attending the composition and publication of the present work have thrown upon me the duty of furnishing it with a preface explaining its object and scope.

Briefly, the purpose of the author has been to collect into a Book of Malay Folklore all that seemed to him most typical of the subject amongst a considerable mass of materials, some of which lay scattered in the pages of various other works, others in unpublished native manuscripts, and much in notes made by him personally of what he had observed during several years spent in the Malay Peninsula, principally in the State of Selangor. The book does not profess to be an exhaustive or complete treatise, but rather, as its title indicates, an introduction to the study of Folklore, Popular Religion, and Magic as understood among the Malays of the Peninsula.

It should be superfluous, at this time of day, to defend such studies as these from the criticisms which have from time to time been brought against them. I remember my old friend and former teacher, WanʿAbdullah, a Singapore Malay of Trengganu extraction and Arab descent, a devout and learned Muhammadan and a most charming man, objecting to them on the grounds, first, that they were useless, and, secondly, which, as he emphatically declared, was far worse, that they were perilous to the soul's health. This last is a point of view which it would hardly be appropriate or profitable to discuss here, but a few words may as well be devoted to the other objection. It is based, sometimes, on the ground that these studies deal not with "facts," but with mere nonsensical fancies and beliefs. Now, for facts we all, of course, have the greatest respect; but the objection appears to me to involve an unwarrantable restriction of the meaning of the word: a belief which is actually held, even a mere fancy that is entertained in the mind, has a real existence, and is a fact just as much as any other. As a piece of psychology it must always have a certain interest, and it may on occasions become of enormous practical importance. If, for instance, in 1857 certain persons, whose concern it was, had paid more attention to facts of this kind, possibly the Indian Mutiny could have been prevented, and probably it might have been foreseen, so that precautionary measures could have been taken in time to minimise the extent of the catastrophe. It is not suggested that the matters dealt with in this book are ever likely to involve such serious issues; but, speaking generally, there can be no doubt that an understanding of the ideas and modes of thought of an alien people in a relatively low stage of civilisation facilitates very considerably the task of governing them; and in the Malay Peninsula that task has now devolved mainly upon Englishmen. Moreover, every notion of utility implies an end to which it is to be referred, and there are other ends in life worth considering as well as those to which the "practical man" is pleased to restrict himself. When one passes from the practical to the speculative point of view, it is almost impossible to predict what piece of knowledge will be fruitful of results, and what will not; prima facie, therefore, all knowledge has a claim to be considered of importance from a scientific point of view, and until everything is known, nothing can safely be rejected as worthless.

Another and more serious objection, aimed rather at the method of such investigations as these, is that the evidence with which they have to be content is worth little or nothing. Objectors attempt to discredit it by implying that at best it is only what A. says that B. told him about the beliefs B. says he holds, in other words, that it is the merest hearsay; and it is also sometimes suggested that when A. is a European and B. a savage, or at most a semi-civilised person of another breed, the chances are that B. will lie about his alleged beliefs, or that A. will unconsciously read his own ideas into B.'s confused statements, or that, at any rate, one way or another, they are sure to misunderstand each other, and accordingly the record cannot be a faithful one.

So far as this objection can have any application to the present work, it may fairly be replied: first that the author has been at some pains to corroborate and illustrate his own accounts by the independent observations of others (and this must be his justification for the copiousness of his quotations from other writers); and, secondly, that he has, whenever possible, given us what is really the best kind of evidence for his own statements by recording the charms and other magic formulæ which are actually in use. Of these a great number has been here collected, and in the translation of such of the more interesting ones as are quoted in the text of the book, every effort has been made to keep to literal accuracy of rendering. The originals will be found in the Appendix, and it must be left to those who can read Malay to check the author's versions, and to draw from the untranslated portions such inferences as may seem to them good.
---
---
⇧ Back to top
---