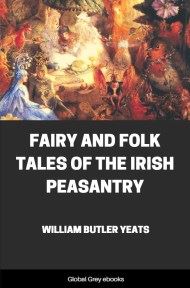 Fairy and Folk Tales of the Irish Peasantry
Format: Global Grey free PDF, epub, Kindle ebook
Pages (PDF): 345
Publication Date: 1888
Download Links:
I run this site on my own and spend a lot of time (and money) creating these ebooks. Please support the site by buying a collection; like the Folk-Lore and Mythology one for only £10 or by making a small donation using the buttons below.
PDF
ePub
Kindle
Stripe(£GBP):
Summary:
This is an anthology of Irish folklore, edited by W. B. Yeats. A variety of tales about subjects such as The Trooping Fairies; Changelings; The Solitary Fairies; The Banshee; Ghosts; Witches, Fairy Doctors; Saints, Priests; The Devil; Giants; and Kings, Queens, Princesses, Earls, Robbers.
More books you might like:
Excerpt:
Martin was a thin, pale man, when I saw him, of a sickly look, and a constitution naturally feeble. His hair was a light auburn, his beard mostly unshaven, and his hands of a singular delicacy and whiteness, owing, I dare say, as much to the soft and easy nature of his employment as to his infirm health. In everything else he was as sensible, sober, and rational as any other man; but on the topic of fairies, the man's mania was peculiarly strong and immovable. Indeed, I remember that the expression of his eyes was singularly wild and hollow, and his long narrow temples sallow and emaciated.

Now, this man did not lead an unhappy life, nor did the malady he laboured under seem to be productive of either pain or terror to him, although one might be apt to imagine otherwise. On the contrary, he and the fairies maintained the most friendly intimacy, and their dialogues--which I fear were woefully one-sided ones--must have been a source of great pleasure to him, for they were conducted with much mirth and laughter, on his part at least.

"Well, Frank, when did you see the fairies?"

"Whist! there's two dozen of them in the shop (the weaving shop) this minute. There's a little ould fellow sittin' on the top of the sleys, an' all to be rocked while I'm weavin'. The sorrow's in them, but they're the greatest little skamers alive, so they are. See, there's another of them at my dressin' noggin. Go out o' that, youshingawn; or, bad cess to me, if you don't, but I'll lave you a mark. Ha! cut, you thief you!"

"Frank, am't you afeard o' them?"

"Is it me! Arra, what ud' I be afeard o' them for? Sure they have no power over me."

"And why haven't they, Frank?"

"Because I was baptised against them."

"What do you mean by that?"

"Why, the priest that christened me was tould by my father, to put in the proper prayer against the fairies--an' a priest can't refuse it when he's asked--an' he did so. Begorra, it's well for me that he did--(let the tallow alone, you little glutton--see, theres a weeny thief o' them aitin' my tallow)--becaise, you see, it was their intention to make me king o' the fairies."

"Is it possible?"

"Devil a lie in it. Sure you may ax them, an' they'll tell you."

"What size are they, Frank?"

"Oh, little wee fellows, with green coats, an' the purtiest little shoes ever you seen. There's two of them--both ould acquaintances o' mine--runnin' along the yarn-beam. That ould fellow with the bob-wig is called Jim jam, an' the other chap, with the three-cocked hat, is called Nickey Nick. Nickey plays the pipes. Nickey, give us a tune, or I'll malivogue you--come now, 'Lough Erne Shore'. Whist, now--listen!"

The poor fellow, though weaving as fast as he could all the time, yet bestowed every possible mark of attention to the music, and seemed to enjoy it as much as if it had been real. But who can tell whether that which we look upon as a privation may not after all be a fountain of increased happiness, greater, perhaps, than any which we ourselves enjoy? I forget who the poet is who says--

"Mysterious are thy laws;
The vision's finer than the view;
Her landscape Nature never drew
So fair as Fancy draws."

Many a time, when a mere child, not more than six or seven years of age, have I gone as far as Frank's weaving-shop, in order, with a heart divided between curiosity and fear, to listen to his conversation with the good people. From morning till night his tongue was going almost as incessantly as his shuttle; and it was well known that at night, whenever he awoke out of his sleep, the first thing he did was to put out his hand, and push them, as it were, off his bed.

"Go out o' this, you thieves, you--go out o' this now, an' let me alone. Nickey, is this any time to be playing the pipes, and me wants to sleep? Go off, now--troth if yez do, you'll see what I'll give yez tomorrow. Sure I'll be makin' new dressin's; and if yez behave decently, maybe I'll lave yez the scrapin' o' the pot. There now. Och! poor things, they're dacent crathurs. Sure they're all gone, barrin' poor Red-cap, that doesn't like to lave me." And then the harmless monomaniac would fall back into what we trust was an innocent slumber.

About this time there was said to have occurred a very remarkable circumstance, which gave poor Frank a vast deal of importance among the neighbours. A man named Frank Thomas, the same in whose house Mickey M'Rorey held the first dance at which I ever saw him, as detailed in a former sketch; this man, I say, had a child sick, but of what complaint I cannot now remember, nor is it of any importance. One of the gables of Thomas's house was built against, or rather into, a Forth or Rath, called Towny, or properly Tonagh Forth.
---
---
⇧ Back to top
---