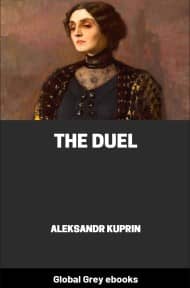 The Duel
---
Available in PDF, epub, and Kindle ebook. This book has 176 pages in the PDF version, and was originally published in 1905. This unstated translation was first published in 1916.

Description
The Duel is a 1905 novel by Russian author Aleksandr Kuprin. Generally considered to be his best work, and certainly the book that made him famous, The Duel follows the story of an intelligent young officer, Second Lieutenant Romashov, stationed at a military garrison in southern Russia. Romashov hates military life in general, and especially his colleagues, who he sees as sadistic as well as stupid. He falls in love with the wife of a superior officer, which leads to the duel of the title. The book is composed of 23 unnamed chapters.
Free Download (below donate buttons)
Last week, around 25,000 people downloaded books from my site - 5 people gave donations. These books can take me from 2 to 10 hours to create. I want to keep them free, but need some support to be able to do so. If you can, please make a small donation using the PayPal or Stripe button below (average donation is £2.50). You can also support the site by buying a collection, such as the Fiction (General) one, with 100 ebooks for only £7.00
---
PDF
ePub
Kindle
Excerpt from The Duel
THE 6th Company's afternoon drill was nearly over, and the junior officers looked with increasing frequency at their watches, and with growing impatience. The rank and file of the new regiment were being instructed in garrison duty. Along the whole of the extensive parade-ground the soldiers stood in scattered groups: by the poplars that bordered the causeway, by the gymnastic apparatus, by the door of the company's school, and in the neighbourhood of the butts. All these places were to represent during the drill the most important buildings in the garrison—the commander's residence, the headquarters, the powder magazine, the administration department, etc. Sentries were posted and relieved; patrols marched here and there, shouting at and saluting each other in military fashion; harsh non-commissioned officers visited and examined the sentries on duty, trying, sometimes by a trick, sometimes by pretended threats, to fool the soldiers into infringing the rules, e.g. to quit their posts, give up their rifles, to take charge of contraband articles, etc. The older men, who had had previous experience of such practical jokes, were very seldom taken in, but answered rudely, "The Tsar alone gives orders here," etc., etc. The young recruits, on the other hand, often enough fell into the snare set for them.
"Khliabnikov!" a stout little "non-com." cried angrily in a voice which betrayed a passion for ruling. "What did I tell you just now, simpleton? Did I put you under arrest? What are you sticking there for, then? Why don't you answer?"
In the third platoon a tragi-comic scene took place. Moukhamedjinov, a young soldier, Tartar by birth, was not yet versed in the Russian language. He got more and more confused under the commander's irritating and insidious questions. At last he lost his head entirely, brought his rifle to the charge, and threatened all the bystanders with the bayonet.
"Stop, you madman!" roared Sergeant Bobuilev. "Can't you recognize your own commander, your own captain?"
"Another step and you are a dead man!" shouted the Tartar, in a furious rage. His eyes were bloodshot, and he nervously repelled with his bayonet all who approached him. Round about him, but at a respectful distance, a crowd of soldiers flocked together, accepting with joy and gratitude this interesting little interlude in the wearisome drill.
Sliva, the captain of the company, approached to see what was going on. While he was on the opposite side of the parade-ground, where, with bent back and dragging steps, he tottered slowly backwards and forwards, a few young officers assembled in a small group to smoke and chatter. They were three, all told: Lieutenant Viätkin, a bald, moustached man of thirty-three, a jovial fellow, chatterbox, singer, and particularly fond of his glass; Sub-Lieutenant Romashov, who had hardly served two years in the regiment; and, lastly, Sub-Ensign Lbov, a lively, well-shaped young man, with an expression of shrewd geniality in his pale eyes and an eternal smile on his thick, innocent lips. He passed for a peripatetic storehouse of anecdotes, specially crammed with old and worn-out officers' stories.
"This is an out-and-out scandal," said Viätkin, as he looked at his dainty little watch, the case of which he angrily closed with a little click. "What the devil does he mean by keeping the company all this time?"
"You should ask him that question, Pavel Pavlich," replied Lbov, with a sly look.
"Oh, go to the devil! Go and ask him yourself. But the point which I want to emphasize is that the whole business is utterly futile; there is always this fuss before the review, and every time they overdo it. The soldiers are so worried and badgered, that at the review they stand like blockheads. Do you know that story about the two captains who made a pretty heavy bet as to which of them had in his company the best trencher-man? When one of the 'champions' had consumed seven pounds of bread he was obliged to acknowledge himself beaten. His Captain, furious with indignation, sent for his sergeant-major, and said: 'What made you send me a creature like that? After his seventh pound he had to give up, and I've lost my wager!' The poor sergeant-major stared at his superior. 'I don't know what could have happened to him, your Excellency. This very morning I rehearsed with him, and then he ate eight pounds without any ado.' It's the same case here, gentlemen. We rehearse without mercy and common-sense up to the very last, and thus, when the tug-of-war comes, the soldier drops down from sheer weariness."
"Last night," began Lbov, who could hardly get his words out for laughing—"last night, when the drill was over, I went to my quarters. It was past eight, and quite dark then. As I was approaching the barracks of the 11th Company I heard some ear-piercing music from there. I go there and am told that the men are being taught our horn signals. All the recruits were obliged to sing in chorus. It was a hideous concert, and I asked Lieutenant Andrusevich how any one could put up with such a row so late at night. He answered laughingly, 'Why shouldn't we now and then, like the dogs, howl at the moon?'"
"Now I can't stand this any longer," interrupted Viätkin, with a yawn. "But who's that riding down there? It looks like Biek."
"Yes, it's Biek-Agamalov," replied sharp-sighted Lbov. "Look how beautifully he rides."
"Yes, he does," chimed in Romashov. "To my thinking, he rides better than any other of our cavalrymen. But just look at his horse dancing. Biek is showing off."
An officer, wearing an Adjutant's uniform and white gloves, was riding quietly along the causeway. He was sitting on a high, slim-built horse with a gold-coloured and short-clipped tail, after the English fashion. The spirited animal pirouetted under his rider, and impatiently shook its branch-bit by the violent tossings of its long and nobly formed neck.
End of excerpt.
---
⇧ Back to top