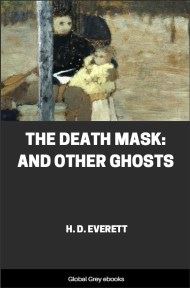 The Death Mask: And Other Ghosts
H. D. Everett
Format: Global Grey free PDF, epub, Kindle ebook
Pages (PDF): 196
Publication Date: 1920
Download Links:
I run this site on my own and spend a lot of time (and money) creating these ebooks. Please support the site by buying a collection; like the Fiction (Genre) one for only £15 or by making a small donation using the buttons below.
PDF
ePub
Kindle
Stripe(£GBP):
Summary:
A collection of 14 short stories with horror and paranormal themes. The stories are: The Death Mask; Parson Clench; The Wind of Dunowe; Nevill Nugent's Legacy; The Crimson Blind; Fingers of a Hand; The Next Heir; Anne's Little Ghost; Over the Wires; A Water Witch; The Lonely Road; A Girl in White; A Perplexing Case; and, Beyond the Pale.
More books you might like:
Excerpt:
"Yes, that is a portrait of my wife. It is considered to be a good likeness. But of course she was older-looking towards the last."

Enderby and I were on our way to the smoking-room after dinner, and the picture hung on the staircase. We had been chums at school a quarter of a century ago, and later on at college; but I had spent the last decade out of England. I returned to find my friend a widower of four years' standing. And a good job too, I thought to myself when I heard of it, for I had no great liking for the late Gloriana. Probably the sentiment, or want of sentiment, had been mutual: she did not smile on me, but I doubt if she smiled on any of poor Tom Enderby's bachelor cronies. The picture was certainly like her. She was a fine woman, with aquiline features and a cold eye. The artist had done the features justice— and the eye, which seemed to keep a steely watch on all the comings and goings of the house out of which she had died.

We made only a brief pause before the portrait, and then went on. The smoking-room was an apartment built out at the back of the house by a former owner, and shut off by double doors to serve as a nursery. Mrs. Enderby had no family, and she disliked the smell of tobacco. So the big room was made over to Tom's pipes and cigars; and if Tom's friends wanted to smoke, they must smoke there or not at all. I remembered the room and the rule, but I was not prepared to find it still existing. I had expected to light my after dinner cigar over the dessert dishes, now there was no presiding lady to consider.

We were soon installed in a couple of deep-cushioned chairs before a good fire. I thought Enderby breathed more freely when he closed the double doors behind us, shutting off the dull formal house, and the staircase and the picture. But he was not looking well; there hung about him an unmistakable air of depression. Could he be fretting after Gloriana? Perhaps during their married years, he had fallen into the way of depending on a woman to care for him. It is pleasant enough when the woman is the right sort; but I shouldn't myself have fancied being cared for by the late Mrs. Enderby. And, if the fretting was a fact, it would be easy to find a remedy. Evelyn has a couple of pretty sisters, and we would have him over to stay at our place.

"You must run down and see us," I said presently, pursuing this idea. "I want to introduce you to my wife. Can you come next week?"

His face lit up with real pleasure.

"I should like it of all things," he said heartily. "But a qualification came after. The cloud settled back over him and he sighed. "That is, if I can get away."

"Why, what is to hinder you?"

"It may not seem much to stay for, but I—I have got in the way of stopping here—to keep things together." He did not look at me, but leaned over to the fender to knock the ash off his cigar.

"Tell you what, Tom, you are getting hipped living by yourself. Why don't you sell the house, or let it off just as it is, and try a complete change?"

"I can't sell it. I'm only the tenant for life. It was my wife's."

"Well, I suppose there is nothing to prevent you letting it? Or if you can't let it, you might shut it up."

"There is nothing legal to prevent me--!" The emphasis was too fine to attract notice, but remembered it after.

"Then, my dear fellow, why not? Knock about a bit, and see the world. But, to my thinking, the best thing you could do would be to marry again."

He shook his head drearily.

"Of course it is a delicate matter to urge upon a widower. But you have paid the utmost ceremonial respect. Four years, you know. The greatest stickler for propriety would deem it ample."

"It isn't that. Dick, I—I've a great mind to tell you rather a queer story." He puffed hard at his smoke, and stared into the red coals in the pauses. "But I don't know what you'd think of it. Or think of me."

"Try me," I said. "I'll give you my opinion after. And you know I'm safe to confide in."

"I sometimes think I should feel better if I told it. It's—it's queer enough to be laughable. But it hasn't been any laughing matter to me."

He threw the stump of his cigar into the fire, and turned to me. And then I saw how pale he was, and that a dew of perspiration was breaking out on his white face.

"I was very much of your opinion, Dick: I thought I should be happier if I married again. And I went so far as to get engaged. But the engagement was broken off, and I am going to tell you why.

"My wife was some time ailing before she died, and the doctors were in consultation. But I did not know how serious her complaint was till the last. Then they told me there was no hope, as coma had set in. But it was possible, even probable, that there would be a revival of consciousness before death, and for this I was to hold myself ready.

"I daresay you will write me down a coward, but I dreaded the revival: I was ready to pray that she might pass away in her sleep. I knew she held exalted views about the marriage tie, and I felt sure if there were any last words she would exact a pledge. I could not at such a moment refuse to promise, and I did not want to be tied. You will recollect that she was my senior. I was about to be left a widower in middle life, and in the natural course of things I had a good many years before me. You see?"

"My dear fellow, I don't think a promise so extorted ought to bind you. It isn't fair--!"

"Wait and hear me. I was sitting here, miserable enough, as you may suppose, when the doctor came to fetch me to her room. Mrs. Enderby was conscious and had asked for me, but he particularly begged me not to agitate her in any way, lest pain should return. She was lying stretched out in the bed, looking already like a corpse.
---
---
⇧ Back to top
---