---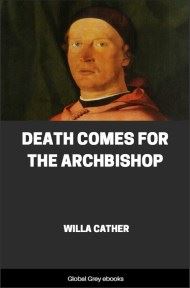 Format: Global Grey free PDF, epub, Kindle ebook
Pages (PDF): 201
Publication Date: 1927
Download links are below the donate buttons
Donate with PayPal (using either a Paypal account or credit/debit card).
Donate via Donorbox using the secure payment gateway Stripe (with credit/debit card).
Donate
Summary:
Death Comes for the Archbishop is a 1927 novel by American author Willa Cather. It concerns the attempts of a Catholic bishop and a priest to establish a diocese in New Mexico Territory. The primary character is a bishop, Jean Marie Latour, who travels with his friend and vicar Joseph Vaillant from Sandusky, Ohio to New Mexico to take charge of the newly established diocese of New Mexico, which has only just become a territory of the United States.
---
---
More books you might like:
Excerpt:
One summer evening in the year 1848, three Cardinals and a missionary Bishop from America were dining together in the gardens of a villa in the Sabine hills, overlooking Rome. The villa was famous for the fine view from its terrace. The hidden garden in which the four men sat at table lay some twenty feet below the south end of this terrace, and was a mere shelf of rock, overhanging a steep declivity planted with vineyards. A flight of stone steps connected it with the promenade above. The table stood in a sanded square, among potted orange and oleander trees, shaded by spreading ilex oaks that grew out of the rocks overhead. Beyond the balustrade was the drop into the air, and far below the landscape stretched soft and undulating; there was nothing to arrest the eye until it reached Rome itself.

It was early when the Spanish Cardinal and his guests sat down to dinner. The sun was still good for an hour of supreme splendour, and across the shining folds of country the low profile of the city barely fretted the skyline — indistinct except for the dome of St. Peter's, bluish grey like the flattened top of a great balloon, just a flash of copper light on its soft metallic surface. The Cardinal had an eccentric preference for beginning his dinner at this time in the late afternoon, when the vehemence of the sun suggested motion. The light was full of action and had a peculiar quality of climax — of splendid finish. It was both intense and soft, with a ruddiness as of much-multiplied candlelight, an aura of red in its flames. It bored into the ilex trees, illuminating their mahogany trunks and blurring their dark foliage; it warmed the bright green of the orange trees and the rose of the oleander blooms to gold; sent congested spiral patterns quivering over the damask and plate and crystal. The churchmen kept their rectangular clerical caps on their heads to protect them from the sun. The three Cardinals wore black cassocks with crimson pipings and crimson buttons, the Bishop a long black coat over his violet vest.

They were talking business; had met, indeed, to discuss an anticipated appeal from the Provincial Council at Baltimore for the founding of an Apostolic Vicarate in New Mexico — a part of North America recently annexed to the United States. This new territory was vague to all of them, even to the missionary Bishop. The Italian and French Cardinals spoke of it as Le Mexique, and the Spanish host referred to it as "New Spain." Their interest in the projected Vicarate was tepid, and had to be continually revived by the missionary, Father Ferrand; Irish by birth, French by ancestry — a man of wide wanderings and notable achievement in the New World, an Odysseus of the Church. The language spoken was French — the time had already gone by when Cardinals could conveniently discuss contemporary matters in Latin.

The French and Italian Cardinals were men in vigorous middle life — the Norman full-belted and ruddy, the Venetian spare and sallow and hook-nosed. Their host, García María de Allande, was still a young man. He was dark in colouring, but the long Spanish face, that looked out from so many canvases in his ancestral portrait gallery, was in the young Cardinal much modified through his English mother. With his caffè oscuro eyes, he had a fresh, pleasant English mouth, and an open manner.

During the latter years of the reign of Gregory XVI, de Allande had been the most influential man at the Vatican; but since the death of Gregory, two years ago, he had retired to his country estate. He believed the reforms of the new Pontiff impractical and dangerous, and had withdrawn from politics, confining his activities to work for the Society for the Propagation of the Faith — that organization which had been so fostered by Gregory. In his leisure the Cardinal played tennis. As a boy, in England, he had been passionately fond of this sport. Lawn tennis had not yet come into fashion; it was a formidable game of indoor tennis the Cardinal played. Amateurs of that violent sport came from Spain and France to try their skill against him.

The missionary, Bishop Ferrand, looked much older than any of them, old and rough — except for his clear, intensely blue eyes. His diocese lay within the icy arms of the Great Lakes, and on his long, lonely horseback rides among his missions the sharp winds had bitten him well. The missionary was here for a purpose, and he pressed his point. He ate more rapidly than the others and had plenty of time to plead his cause, — finished each course with such dispatch that the Frenchman remarked he would have been an ideal dinner companion for Napoleon.

The Bishop laughed and threw out his brown hands in apology. "Likely enough I have forgot my manners. I am preoccupied. Here you can scarcely understand what it means that the United States has annexed that enormous territory which was the cradle of the Faith in the New World. The Vicarate of New Mexico will be in a few years raised to an Episcopal See, with jurisdiction over a country larger than Central and Western Europe, barring Russia. The Bishop of that See will direct the beginning of momentous things."

"Beginnings," murmured the Venetian, "there have been so many. But nothing ever comes from over there but trouble and appeals for money."

The missionary turned to him patiently. "Your Eminence, I beg you to follow me. This country was evangelized in fifteen hundred, by the Franciscan Fathers. It has been allowed to drift for nearly three hundred years and is not yet dead. It still pitifully calls itself a Catholic country, and tries to keep the forms of religion without instruction. The old mission churches are in ruins. The few priests are without guidance or discipline. They are lax in religious observance, and some of them live in open concubinage. If this Augean stable is not cleansed, now that the territory has been taken over by a progressive government, it will prejudice the interests of the Church in the whole of North America."