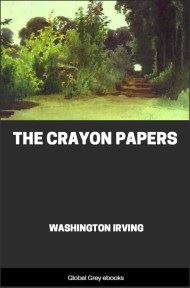 The Crayon Papers
Format: Global Grey free PDF, epub, Kindle ebook
Pages (PDF): 215
Publication Date: 1883
Download Links (below donate buttons):
Stripe:
---
PDF
ePub
Kindle
Summary:
A posthumous publication of some short stories of Washington Irving's pseudonym "Geoffrey Crayon".
More free ebooks:
Excerpt:
I was born among romantic scenery, in one of the wildest parts of the Hudson, which at that time was not so thickly settled as at present. My father was descended from one of the old Huguenot families that came over to this country on the revocation of the edict of Nantz. He lived in a style of easy, rural independence, on a patrimonial estate that had been for two or three generations in the family. He was an indolent, good-natured man, who took the world as it went, and had a kind of laughing philosophy, that parried all rubs and mishaps, and served him in the place of wisdom. This was the part of his character least to my taste; for I was of an enthusiastic, excitable temperament, prone to kindle up with new schemes and projects, and he was apt to dash my sallying enthusiasm by some unlucky joke; so that whenever I was in a glow with any sudden excitement, I stood in mortal dread of his good-humor.

Yet he indulged me in every vagary; for I was an only son, and of course a personage of importance in the household. I had two sisters older than myself, and one younger. The former were educated at New York, under the eye of a maiden aunt; the latter remained at home, and was my cherished playmate, the companion of my thoughts. We were two imaginative little beings, of quick susceptibility, and prone to see wonders and mysteries in everything around us. Scarce had we learned to read, when our mother made us holiday presents of all the nursery literature of the day; which at that time consisted of little books covered with gilt paper, adorned with "cuts," and filled with tales of fairies, giants, and enchanters. What draughts of delightful fiction did we then inhale! My sister Sophy was of a soft and tender nature. She would weep over the woes of the Children in the Wood, or quake at the dark romance of Blue-Beard, and the terrible mysteries of the blue chamber. But I was all for enterprise and adventure. I burned to emulate the deeds of that heroic prince who delivered the white cat from her enchantment; or he of no less royal blood, and doughty enterprise, who broke the charmed slumber of the Beauty in the Wood!

The house in which we lived was just the kind of place to foster such propensities. It was a venerable mansion, half villa, half farmhouse. The oldest part was of stone, with loop-holes for musketry, having served as a family fortress in the time of the Indians. To this there had been made various additions, some of brick, some of wood, according to the exigencies of the moment; so that it was full of nooks and crooks, and chambers of all sorts and sizes. It was buried among willows, elms, and cherry trees, and surrounded with roses and hollyhocks, with honeysuckle and sweetbrier clambering about every window. A brood of hereditary pigeons sunned themselves upon the roof; hereditary swallows and martins built about the eaves and chimneys; and hereditary bees hummed about the flower-beds.

Under the influence of our story-books every object around us now assumed a new character, and a charmed interest. The wild flowers were no longer the mere ornaments of the fields, or the resorts of the toilful bee; they were the lurking-places of fairies. We would watch the humming-bird, as it hovered around the trumpet creeper at our porch, and the butterfly as it flitted up into the blue air, above the sunny tree-tops, and fancy them some of the tiny beings from fairyland. I would call to mind all that I had read of Robin Goodfellow and his power of transformation. Oh, how I envied him that power! How I longed to be able to compress my form into utter littleness; to ride the bold dragonfly; swing on the tall bearded grass; follow the ant into his subterraneous habitation, or dive into the cavernous depths of the honeysuckle!

While I was yet a mere child I was sent to a daily school, about two miles distant. The schoolhouse was on the edge of a wood, close by a brook overhung with birches, alders, and dwarf willows. We of the school who lived at some distance came with our dinners put up in little baskets. In the intervals of school hours we would gather round a spring, under a tuft of hazel-bushes, and have a kind of picnic; interchanging the rustic dainties with which our provident mothers had fitted us out. Then, when our joyous repast was over, and my companions were disposed for play, I would draw forth one of my cherished story-books, stretch myself on the green sward, and soon lose myself in its bewitching contents. I became an oracle among my schoolmates on account of my superior erudition, and soon imparted to them the contagion of my infected fancy. Often in the evening, after school hours, we would sit on the trunk of some fallen tree in the woods, and vie with each other in telling extravagant stories, until the whip-poor-will began his nightly moaning, and the fireflies sparkled in the gloom. Then came the perilous journey homeward. What delight we would take in getting up wanton panics in some dusky part of the wood; scampering like frightened deer; pausing to take breath; renewing the panic, and scampering off again, wild with fictitious terror!

Our greatest trial was to pass a dark, lonely pool, covered with pond-lilies, peopled with bullfrogs and water snakes, and haunted by two white cranes. Oh! the terrors of that pond! How our little hearts would beat as we approached it; what fearful glances we would throw around! And if by chance a plash of a wild duck, or the guttural twang of a bullfrog, struck our ears, as we stole quietly by—away we sped, nor paused until completely out of the woods. Then, when I reached home, what a world of adventures and imaginary terrors would I have to relate to my sister Sophy!
---
---
⇧ Back to top
---