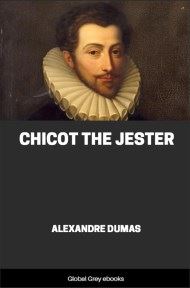 Chicot the Jester
Format: Global Grey free PDF, epub, Kindle ebook
Pages (PDF): 543
Publication Date: 1846
Download Links:
I run this site on my own and spend a lot of time (and money) creating these ebooks. Please support the site by buying a collection; like the Fiction (Genre) one for only £15 or by making a small donation using the buttons below.
PDF
ePub
Kindle
Stripe(£GBP):
Summary:
Chicot the Jester delves into the ill-fated romance of the Dame de Monsoreau and Count de Bussy, whose relationship is unable to withstand the tensions in the royal family that marked the reign of Henry III.
More books you might like:
Excerpt:
On the evening of a Sunday, in the year 1578, a splendid fête was given in the magnificent hotel just built opposite the Louvre, on the other side of the water, by the family of Montmorency, who, allied to the royalty of France, held themselves equal to princes. This fête was to celebrate the wedding of François d'Epinay de St. Luc, a great friend and favorite of the king, Henri III., with Jeanne de Crossé-Brissac, daughter of the marshal of that name.

The banquet had taken place at the Louvre, and the king, who had been with much difficulty induced to consent to the marriage, had appeared at it with a severe and grave countenance. His costume was in harmony with his face; he wore that suit of deep chestnut, in which Clouet described him at the wedding of Joyeuse; and this kind of royal specter, solemn and majestic, had chilled all the spectators, but above all the young bride, at whom he cast many angry glances. The reason of all this was known to everyone, but was one of those court secrets of which no one likes to speak.

Scarcely was the repast finished, when the king had risen abruptly, thereby forcing everyone to do the same. Then St. Luc approached him, and said: "Sire, will your majesty do me the honor to accept the fête, which I wish to give to you this evening at the Hôtel Montmorency?" This was said in an imploring tone, but Henri, with a voice betraying both vexation and anger, had replied:

"Yes, monsieur, we will go, although you certainly do not merit this proof of friendship on our part."

Then Madame de St. Luc had humbly thanked the king, but he turned his back without replying.

"Is the king angry with you?" asked the young wife of her husband.

"I will explain it to you after, mon amie, when this anger shall have passed away."

"And will it pass away?"

"It must."

Mademoiselle de Brissac was not yet sufficiently Madame de St. Luc to insist further; therefore she repressed her curiosity, promising herself to satisfy it at a more favorable time. They were, therefore, expecting St. Luc at the Hôtel Montmorency, at the moment in which our story commences. St. Luc had invited all the king's friends and all his own; the princes and their favorites, particularly those of the Duc d'Anjou. He was always in opposition to the king, but in a hidden manner, pushing forward those of his friends whom the example of La Mole and Coconnas had not cured. Of course, his favorites and those of the king lived in a state of antagonism, which brought on rencontres two or three times a month, in which it was rare that some one was not killed or badly wounded.

As for Catherine, she was at the height of her wishes; her favorite son was on the throne, and she reigned through him, while she pretended to care no more for the things of this world. St. Luc, very uneasy at the absence of all the royal family, tried to reassure his father-in-law, who was much distressed at this menacing absence. Convinced, like all the world, of the friendship of Henri for St. Luc, he had believed he was assuring the royal favor, and now this looked like a disgrace. St. Luc tried hard to inspire in them a security which he did not feel himself; and his friends, Maugiron, Schomberg, and Quelus, clothed in their most magnificent dresses, stiff in their splendid doublets, with enormous frills, added to his annoyance by their ironical lamentations.

"Eh! mon Dieu! my poor friend," said Jacques de Levis, Comte de Quelus, "I believe now that you are done for. The king is angry that you would not take his advice, and M. d'Anjou because you laughed at his nose."

"No, Quelus, the king does not come, because he has made a pilgrimage to the monks of the Bois de Vincennes; and the Duc d'Anjou is absent, because he is in love with some woman whom I have forgotten to invite."

"But," said Maugiron, "did you see the king's face at dinner? And as for the duke, if he could not come, his gentlemen might. There is not one here, not even Bussy."

"Oh! gentlemen," said the Duc de Brissac, in a despairing tone, "it looks like a complete disgrace. Mon Dieu! how can our house, always so devoted to his majesty, have displeased him?"

The young men received this speech with bursts of laughter, which did not tend to soothe the marquis. The young bride was also wondering how St. Luc could have displeased the king.

All at once one of the doors opened and the king was announced.

"Ah!" cried the marshal, "now I fear nothing; if the Duc d'Anjou would but come, my satisfaction would be complete."

"And I," murmured St. Luc; "I have more fear of the king present than absent, for I fear he comes to play me some spiteful tricks."
---
---
⇧ Back to top
---