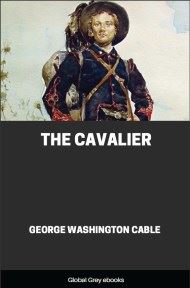 The Cavalier
George Washington Cable
Format: Global Grey free PDF, epub, Kindle ebook
Pages (PDF): 246
Publication Date: 1901
Download Links:
I run this site on my own and spend a lot of time (and money) creating these ebooks. Please support the site by buying a collection; like the Fiction one for only £7 or by making a small donation using the buttons below.
PDF
ePub
Kindle
Stripe(£GBP):
Summary:
This swashbuckling romance follows the fortunes of Miss Charlotte Durand, a Confederate patriot. She falls in love with and marries Captain Oliver only to learn, much to her surprise, that Captain Oliver is not the Confederate officer she believed him to be, but, rather, a Yankee spy.
More books you might like:
Excerpt:
Our camp was in the heart of Copiah County, Mississippi, a mile or so west of Gallatin and about six miles east of that once robber-haunted road, the Natchez Trace. Austin's brigade, we were, a detached body of mixed Louisiana and Mississippi cavalry, getting our breath again after two weeks' hard fighting of Grant. Grierson's raid had lately gone the entire length of the State, and we had had a hard, vain chase after him, also.

Joe Johnston's shattered army was at Jackson, about forty-five miles to northward; beleaguered Vicksburg was in the Northwest, a trifle farther away; Natchez lay southwest, still more distant; and nearly twice as far in the south was our heartbroken New Orleans. We had paused to recuperate our animals, and there was a rumor that we were to get new clothing. Anyhow we had rags with honor, and a right to make as much noise as we chose.

It was being made. The air was in anguish with the din of tree-felling and log-chopping, of stamping, neighing, braying, whooping, guffawing, and singing--all the daybreak charivari beloved of a camp of Confederate "critter companies." In the midst of it a chum and I sat close together on a log near the mess fire, and as the other boys of the mess lifted their heads from their saddle-tree pillows, from two of them at once came a slow, disdainful acceptance of the final lot of the wicked, made unsolicited on discovering that this chum and I had sat there talking together all night. I had the day before been wheedled into letting myself be detailed to be a quartermaster's clerk, and this comrade and I were never to snuggle under the one blanket again. The thought forbade slumber.

"If I go to sleep," I said,--"you know how I dream. I shall have one of those dreams of mine to carry around in my memory for a year, like a bullet in my back." So there the dear fellow had sat all night to give me my hourly powders of reassurance that I could be a quartermaster's clerk without shame.

"Certainly you can afford to fill a position which the leader of Ferry's scouts has filled just before you."

But my unsoldierly motive for going to headquarters kept my misgivings alive. I was hungry for the gentilities of camp; to be where Shakespeare was part of the baggage, where Pope was quoted, where Coleridge and Byron and Poe were recited, Macaulay criticized, and "Les Misérables"--Madame Le Vert's Mobile translation--lent round; and where men, when they did steal, stole portable volumes, not currycombs. Ned Ferry had been Major Harper's clerk, but had managed in several instances to display such fitness to lead that General Austin had lately named him for promotion, and the quartermaster's clerk was now Lieutenant Ferry, raised from the ranks for gallantry, and followed ubiquitously by a chosen sixty or so drawn from the whole brigade. Could the like occur again? And could it occur to a chap who could not comprehend how it had ever occurred at all?

By and by we breakfasted. After which, my precious horse not having finished his corn, I spread my blanket and let myself doze, but was soon awakened by the shouts of my companions laughing at me for laughing so piteously in my sleep.

"Would I not tell my dream, as nice young men in the Bible always did?"

"No, I would not!" But I had to yield. My dream was that our General had told me a fable. It was of a young rat, which seeing a cockerel, whose tail was scarcely longer than his own, leap down into a barrel, gather some stray grains of corn and fly out again, was tempted to follow his example, but having got in, could only stay there. The boys furnished the moral; it was not complimentary.

"Well, good-bye, fellows."

"Good-bye, Smith." I have never liked my last name, but at that moment the boys contrived to put a kindness of tone into it which made it almost pleasing. "Good-bye, Smith, remember your failings."

Remember! I had yet to make their discovery. But I was on the eve of making it.

As I passed up the road through the midst of our nearly tentless camp I met a leather-curtained spring-wagon to which were attached a pair of little striped-legged mules driven by an old negro. Behind him, among the curtains, sat a lady and her black maid. The mistress was of strikingly graceful figure, in a most tasteful gown and broad Leghorn hat. Her small hands were daintily gloved. The mules stopped, and through her light veil I saw that she was handsome. Her eyes, full of thought, were blue, and yet were so spirited they might as well have been black, as her hair was. She, or fate for her, had crowded thirty years of life into twenty-five of time.

For many a day I had not seen such charms of feminine attire, and yet I was not charmed. Every item of her fragrant drapery was from the world's open market, hence flagrantly un-Confederate, unpatriotic, reprehensible. Otherwise it might not have seemed to me that her thin nostrils had got their passionateness lately.

"Are you not a New Orleans boy?" she asked as I lifted my képi and drew rein.
---
---
⇧ Back to top
---