The Babylonian Talmud, Book 9
---
---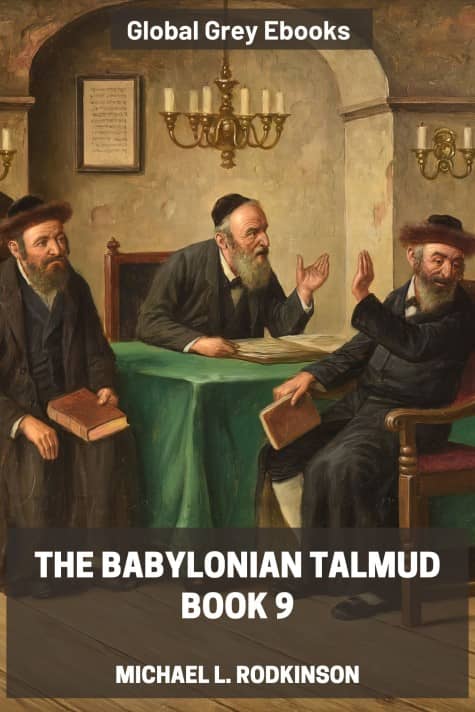 Available to download for free in PDF, epub, and Kindle (mobi and AZW3) ebook formats. Or read online.
Skip straight to downloads.
Description
This is the ninth and final book of the Rodkinson translation of the Talmud. This ten-volume set was an attempt to translate the Talmud, the vast collection of Jewish laws and traditions. Rodkinsons' edition contains complete translations of the 'Festivals' and 'Jurisprudence' sections of the Talmud, comprising only about a third of the Talmud. This ninth book contains the remaining portions of the Jurisprudence section. Tract Maccoth deals with corporal punishment. Tract Shebuoth discusses oaths: what constitutes an oath, false oaths, and so on. Tract Eduyoth is a mixture of Mishna without commentary which give various cases related to other Talmud tracts. Tract Abuda Zara elaborates the Biblical commandment not to worship idols; it is of historical interest because of the tangential information about what the idolators (i.e. ancient Pagans) did or did not do. Tract Horioth is another short tract which discusses a number of very technical issues, including the hierarchy of dogs, cats and mice. It should be noted that Rodkinson has been criticized by traditionalist Jews who feel that translating the Talmud is not an acceptable practice.
№ 9 in the Babylonian Talmud series.
This book has 177,937 words, and 257 pages in the PDF version. This book is taken from a 1918 edition.
Production notes: This ebook of The Babylonian Talmud, Book 9 was published by Global Grey on the 22nd April 2023. The artwork used for the cover is 'The Talmud Dispute' by Carl Ostersetzer.
---
Related ebooks...