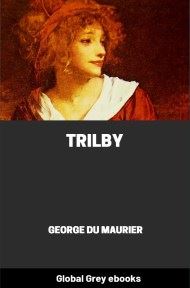 Trilby
George Du Maurier
Format: Global Grey free PDF, epub, Kindle ebook, or read online
Pages (PDF): 286
Publication Date: 1895
Download Links:
I run this site (and create these ebooks) by myself. Please help out by making a small payment donation of £1, or whatever you can, for this book. It only takes a minute and you don't need a PayPal account.
PDF
ePub
Kindle
Online
Stripe(£GBP):
Summary:
Set in the 1850's in bohemian Paris, 'Trilby' by George du Maurier, was published in 1895, and became one of the most popular novels of its time (although it has been criticised for being anti-semitic). It tells the story of Trilby o'Ferrall, an Irish girl who comes under the spell of Svengali, a rogue hypnotist, who pushes her to sing, despite her not particularly wanting to. The novel gave us the word 'Svengali', now used to denote a manipulative person.
More books you might like:
Excerpt:
"Mimi Pinson est une blonde,
Une blonde que l'on connaît;
Elle n'a qu'une robe au monde,
Landérirette! et qu'un bonnet!"

IT was a fine, sunny, showery day in April.

The big studio window was open at the top, and let in a pleasant breeze from the northwest. Things were beginning to look shipshape at last. The big piano, a semi-grand by Broadwood, had arrived from England by "the Little Quickness" (la Petite Vitesse, as the goods trains are called in France), and lay, freshly tuned, alongside the eastern wall; on the wall opposite was a panoply of foils, masks, and boxing-gloves.

A trapeze, a knotted rope, and two parallel cords, supporting each a ring, depended from a huge beam in the ceiling. The walls were of the usual dull red, relieved by plaster casts of arms and legs and hands and feet; and Dante's mask, and Michael Angelo's altorilievo of Leda and the swan, and a centaur and Lapith from the Elgin marbles—on none of these had the dust as yet had time to settle.

There were also studies in oil from the nude; copies of Titian, Rembrandt, Velasquez, Rubens, Tintoret, Leonardo da Vinci—none of the school of Botticelli, Mantegna, and Co.—a firm whose merits had not as yet been revealed to the many.

Along the walls, at a great height, ran a broad shelf, on which were other casts in plaster, terra-cotta, imitation bronze; a little Theseus, a little Venus of Milo, a little discobolus; a little flayed man threatening high heaven (an act that seemed almost pardonable under the circumstances!); a lion and a boar by Barye; an anatomical figure of a horse with only one leg left and no ears; a horse's head from the pediment of the Parthenon, earless also; and the bust of Clytie, with her beautiful low brow, her sweet wan gaze, and the ineffable forward shrug of her dear shoulders that makes her bosom a nest, a rest, a pillow, a refuge—to be loved and desired forever by generation after generation of the sons of men.

Near the stove hung a gridiron, a frying-pan, a toasting-fork, and a pair of bellows. In an adjoining glazed corner cupboard were plates and glasses, black-handled knives, pewter spoons, and three-pronged steel forks; a salad-bowl, vinegar cruets, an oil-flask, two mustard-pots (English and French), and such like things—all scrupulously clean. On the floor, which had been stained and waxed at considerable cost, lay two chetah-skins and a large Persian praying-rug. One-half of it, however (under the trapeze and at the farthest end from the window, beyond the model throne), was covered with coarse matting, that one might fence or box without slipping down and splitting one's self in two, or fall without breaking any bones.

Two other windows of the usual French size and pattern, with shutters to them and heavy curtains of baize, opened east and west, to let in dawn or sunset, as the case might be, or haply keep them out. And there were alcoves, recesses, irregularities, odd little nooks and corners, to be filled up as time wore on with endless personal knick-knacks, bibelots, private properties and acquisitions—things that make a place genial, homelike, and good to remember, and sweet to muse upon (with fond regret) in after-years.
---
---
⇧ Back to top
---