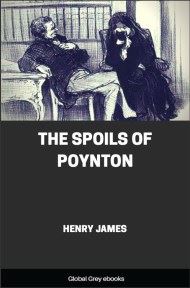 The Spoils of Poynton
Format: Global Grey free PDF, epub, Kindle ebook
Pages (PDF): 181
Publication Date: 1897
Download Links:
I run this site (and create these ebooks) by myself. Please help out by making a small payment donation of £1, or whatever you can, for this book. It only takes a minute and you don't need a PayPal account.
PDF
ePub
Kindle
Stripe(£GBP):
Summary:
The Spoils of Poynton describes the struggle between Mrs. Gereth, a widow of impeccable taste and iron will, and her son Owen over a houseful of precious antique furniture. The story is largely told from the viewpoint of Fleda Vetch, a young woman in love with Owen but sympathetic to Mrs. Gereth's anguish over losing the antiques she patiently collected.
More books you might like:
Excerpt:
Mrs. Gereth had said she would go with the rest to church, but suddenly it seemed to her that she should not be able to wait even till church-time for relief: breakfast, at Waterbath, was a punctual meal, and she had still nearly an hour on her hands. Knowing the church to be near, she prepared in her room for the little rural walk, and on her way down again, passing through corridors and observing imbecilities of decoration, the æsthetic misery of the big commodious house, she felt a return of the tide of last night's irritation, a renewal of everything she could secretly suffer from ugliness and stupidity. Why did she consent to such contacts, why did she so rashly expose herself? She had had, heaven knew, her reasons, but the whole experience was to be sharper than she had feared. To get away from it and out into the air, into the presence of sky and trees, flowers and birds, was a necessity of every nerve. The flowers at Waterbath would probably go wrong in color and the nightingales sing out of tune; but she remembered to have heard the place described as possessing those advantages that are usually spoken of as natural. There were advantages enough it clearly didn't possess. It was hard for her to believe that a woman could look presentable who had been kept awake for hours by the wall-paper in her room; yet none the less, as in her fresh widow's weeds she rustled across the hall, she was sustained by the consciousness, which always added to the unction of her social Sundays, that she was, as usual, the only person in the house incapable of wearing in her preparation the horrible stamp of the same exceptional smartness that would be conspicuous in a grocer's wife. She would rather have perished than have looked endimanchée.

She was fortunately not challenged, the hall being empty of the other women, who were engaged precisely in arraying themselves to that dire end. Once in the grounds, she recognized that, with a site, a view that struck the note, set an example to its inmates, Waterbath ought to have been charming. How she herself, with such elements to handle, would have taken the fine hint of nature! Suddenly, at the turn of a walk, she came on a member of the party, a young lady seated on a bench in deep and lonely meditation. She had observed the girl at dinner and afterwards: she was always looking at girls with an apprehensive or speculative reference to her son. Deep in her heart was a conviction that Owen would, in spite of all her spells, marry at last a frump; and this from no evidence that she could have represented as adequate, but simply from her deep uneasiness, her belief that such a special sensibility as her own could have been inflicted on a woman only as a source of anguish. It would be her fate, her discipline, her cross, to have a frump brought hideously home to her. This girl, one of the two Vetches, had no beauty, but Mrs. Gereth, scanning the dullness for a sign of life, had been straightway able to classify such a figure as the least, for the moment, of her afflictions. Fleda Vetch was dressed with an idea, though perhaps with not much else; and that made a bond when there was none other, especially as in this case the idea was real, not imitation. Mrs. Gereth had long ago generalized the truth that the temperament of the frump is amply consistent with a certain usual prettiness.

There were five girls in the party, and the prettiness of this one, slim, pale, and black-haired, was less likely than that of the others ever to occasion an exchange of platitudes. The two less developed Brigstocks, daughters of the house, were in particular tiresomely "lovely." A second glance, this morning, at the young lady before her conveyed to Mrs. Gereth the soothing assurance that she also was guiltless of looking hot and fine. They had had no talk as yet, but this was a note that would effectually introduce them if the girl should show herself in the least conscious of their community. She got up from her seat with a smile that but partly dissipated the prostration Mrs. Gereth had recognized in her attitude. The elder woman drew her down again, and for a minute, as they sat together, their eyes met and sent out mutual soundings. "Are you safe? Can I utter it?" each of them said to the other, quickly recognizing, almost proclaiming, their common need to escape. The tremendous fancy, as it came to be called, that Mrs. Gereth was destined to take to Fleda Vetch virtually began with this discovery that the poor child had been moved to flight even more promptly than herself. That the poor child no less quickly perceived how far she could now go was proved by the immense friendliness with which she instantly broke out: "Isn't it too dreadful?"

"Horrible—horrible!" cried Mrs. Gereth, with a laugh, "and it's really a comfort to be able to say it." She had an idea, for it was her ambition, that she successfully made a secret of that awkward oddity, her proneness to be rendered unhappy by the presence of the dreadful. Her passion for the exquisite was the cause of this, but it was a passion she considered that she never advertised nor gloried in, contenting herself with letting it regulate her steps and show quietly in her life, remembering at all times that there are few things more soundless than a deep devotion. She was therefore struck with the acuteness of the little girl who had already put a finger on her hidden spring. What was dreadful now, what was horrible, was the intimate ugliness of Waterbath, and it was of that phenomenon these ladies talked while they sat in the shade and drew refreshment from the great tranquil sky, from which no blue saucers were suspended. It was an ugliness fundamental and systematic, the result of the abnormal nature of the Brigstocks, from whose composition the principle of taste had been extravagantly omitted. In the arrangement of their home some other principle, remarkably active, but uncanny and obscure, had operated instead, with consequences depressing to behold, consequences that took the form of a universal futility.
---
---
⇧ Back to top
---