---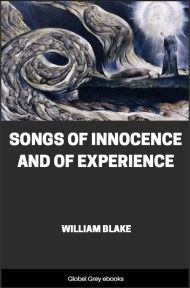 Format: Global Grey free PDF, epub, Kindle ebook
Pages (PDF): 54
Publication Date: 1789-1794
Download links are below the donate buttons
Donate with PayPal (using either a Paypal account or credit/debit card).
Donate via Donorbox using the secure payment gateway Stripe (with credit/debit card)
Donate
Summary:
These poems are one of the treasures of world literature, simple enough to resonate with children, but with enough exoteric and esoteric meaning to keep a gnostic sage pondering for several lifetimes. The poems are also firmly rooted in the misery of 18th century London, and many of them are embued with a politically radical (but still bardic) outlook on the squalid everyday life which surrounded Blake.
---
---
More books you might like:
Excerpt:
Piping down the valleys wild
Piping songs of pleasant glee
On a cloud I saw a child.
And he laughing said to me.
Pipe a song about a Lamb:
So I piped with merry chear,
Piper pipe that song again—
So I piped, he wept to hear.
Drop thy pipe thy happy pipe
Sing thy songs of happy chear,
So I sung the same again
While he wept with joy to hear.
Piper sit thee down and write
In a book that all may read—
So he vanish'd from my sight,
And I pluck'd a hollow reed.
And I made a rural pen,
And I stain'd the water clear,
And I wrote my happy songs,
Every child may joy to hear