Shakti and Shakta
By

Arthur Avalon (John Woodroffe)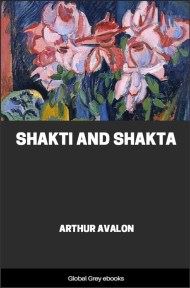 Format: Global Grey edition
Pages (PDF): 556
Publication Date: 1918
Illustrations: No
Available formats: PDF, epub, Kindle ebook
(Download links are just below the donate button)
Book Description:
A set of essays with subjects including; Indian Religion As Bharata Dharma; Tantra Shastra and Veda; The Tantra Shastras in China; The Tantras and the Religion of the Shaktas; Maya-Shakti (The Psycho-Physical Aspect of the Universe); Creation as Explained in the Non-dualist Tantras; The Psychology of Hindu Religious Ritual; Kundalini Shakta (Yoga), and many more.
---
Reason to donate No 1: For every £1 donated, I will give one of my cats (chosen at random) a hug. Also, you are able to download this book (and all the others) without having to give me your email address. That has got to be worth something, right?
Donate with PayPal
Donate with your credit/debit card
Support the site using your PayPal account – or pay with your credit/debit card as a guest (no PayPal account needed).


Support the site using your credit/debit card via Donorbox, using the secure payment gateway, Stripe. (Donation box will open here in pop-up – no taking you away from the site).
---