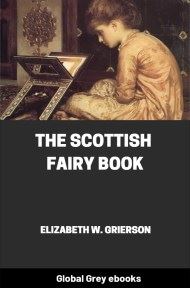 The Scottish Fairy Book
Elizabeth W. Grierson
Format: Global Grey free PDF, epub, Kindle ebook, or read online
Pages (PDF): 203
Publication Date: 1910
Download Links:
I run this site on my own and spend a lot of time (and money) creating these ebooks. Please support the site by buying a collection; like the Folk-Lore and Mythology one for only £10 or by making a small donation using the buttons below.
PDF
ePub
Kindle
Online
Stripe(£GBP):
Summary:
Includes stories such as The Page-boy and the Silver Goblet; The Black Bull of Norroway; The Wee Bannock; The Elfin Knight; Gold-Tree and Silver-Tree; The Wedding of Robin Redbreast and Jenny Wren; Canonbie Dick and Thomas of Ercildoune; The Draiglin' Hogney; The Witch of Fife; Assipattle and the Mester Stoorworm, and many more.
More books you might like:
Excerpt:
Of all the young gallants in Scotland in the thirteenth century, there was none more gracious and debonair than Thomas Learmont, Laird of the Castle of Ercildoune, in Berwickshire.

He loved books, poetry, and music, which were uncommon tastes in those days; and, above all, he loved to study nature, and to watch the habits of the beasts and birds that made their abode in the fields and woods round about his home.

Now it chanced that, one sunny May morning, Thomas left his Tower of Ercildoune, and went wandering into the woods that lay about the Huntly Burn, a little stream that came rushing down from the slopes of the Eildon Hills. It was a lovely morning—fresh, and bright, and warm, and everything was so beautiful that it looked as Paradise might look. The tender leaves were bursting out of their sheaths, and covering all the trees with a fresh soft mantle of green; and amongst the carpet of moss under the young man's feet, yellow primroses and starry anemones were turning up their faces to the morning sky.

The little birds were singing like to burst their throats, and hundreds of insects were flying backwards and forwards in the sunshine; while down by the burnside the bright-eyed water-rats were poking their noses out of their holes, as if they knew that summer had come, and wanted to have a share in all that was going on.

Thomas felt so happy with the gladness of it all, that he threw himself down at the root of a tree, to watch the living things around him.

As he was lying there, he heard the trampling of a horse's hooves, as it forced its way through the bushes; and, looking up, he saw the most beautiful lady that he had ever seen coming riding towards him on a grey palfrey.

She wore a hunting dress of glistening silk, the colour of the fresh spring grass; and from her shoulders hung a velvet mantle, which matched the riding-skirt exactly. Her yellow hair, like rippling gold, hung loosely round her shoulders, and on her head sparkled a diadem of precious stones, which flashed like fire in the sunlight.

Her saddle was of pure ivory, and her saddle-cloth of blood-red satin, while her saddle girths were of corded silk and her stirrups of cut crystal. Her horse's reins were of beaten gold, all hung with little silver bells, so that, as she rode along, she made a sound like fairy music.

Apparently she was bent on the chase, for she carried a hunting-horn and a sheaf of arrows; and she led seven greyhounds along in a leash, while as many scenting hounds ran loose at her horse's side.

As she rode down the glen, she lilted a bit of an old Scotch song; and she carried herself with such a queenly air, and her dress was so magnificent, that Thomas was like to kneel by the side of the path and worship her, for he thought that it must be the Blessed Virgin herself.

But when the rider came to where he was, and understood his thoughts, she shook her head sadly.

"I am not that Blessed Lady, as thou thinkest," she said. "Men call me Queen, but it is of a far other country; for I am the Queen of Fairy-land, and not the Queen of Heaven." And certainly it seemed as if what she said were true; for, from that moment, it was as if a spell were cast over Thomas, making him forget prudence, and caution, and common-sense itself.

For he knew that it was dangerous for mortals to meddle with Fairies, yet he was so entranced with the Lady's beauty that he begged her to give him a kiss. This was just what she wanted, for she knew that if she once kissed him she had him in her power.

And, to the young man's horror, as soon as their lips had met, an awful change came over her. For her beautiful mantle and riding-skirt of silk seemed to fade away, leaving her clad in a long grey garment, which was just the colour of ashes. Her beauty seemed to fade away also, and she grew old and wan; and, worst of all, half of her abundant yellow hair went grey before his very eyes. She saw the poor man's astonishment and terror, and she burst into a mocking laugh.

"I am not so fair to look on now as I was at first," she said, "but that matters little, for thou hast sold thyself, Thomas, to be my servant for seven long years. For whoso kisseth the Fairy Queen must e'en go with her to Fairy-land, and serve her there till that time is past."
---
---
⇧ Back to top
---