---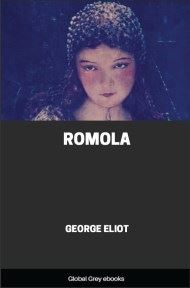 Format: Global Grey free PDF, epub, Kindle ebook
Pages (PDF): 594
Publication Date: 1862–63
Download links are below the donate buttons
Donate with PayPal (using either a Paypal account or credit/debit card).
Donate via Donorbox using the secure payment gateway Stripe (with credit/debit card)
Donate
Summary:
An historical novel by George Eliot set in the fifteenth century. Florence, 1492: Christopher Columbus has sailed towards the New World, and Florence has just mourned the death of its legendary leader, Lorenzo de' Medici. In this setting, a Florentine trader meets a shipwrecked stranger, who introduces himself as Tito Melema, a young Italianate-Greek scholar. Tito becomes acquainted with several other Florentines, including Nello the barber and a young girl named Tessa. He is also introduced to a blind scholar named Bardo de' Bardi, and his daughter Romola. As Tito becomes settled in Florence, assisting Bardo with classical studies, he falls in love with Romola.
---
---
More books you might like:
Excerpt:
The Loggia de' Cerchi stood in the heart of old Florence, within a labyrinth of narrow streets behind the Badia, now rarely threaded by the stranger, unless in a dubious search for a certain severely simple door-place, bearing this inscription:

QUI NACQUE IL DIVINO POETA.

To the ear of Dante, the same streets rang with the shout and clash of fierce battle between rival families; but in the fifteenth century, they were only noisy with the unhistorical quarrels and broad jests of wool-carders in the cloth-producing quarters of San Martino and Garbo.

Under this loggia, in the early morning of the 9th of April 1492, two men had their eyes fixed on each other: one was stooping slightly, and looking downward with the scrutiny of curiosity; the other, lying on the pavement, was looking upward with the startled gaze of a suddenly-awakened dreamer.

The standing figure was the first to speak. He was a grey-haired, broad-shouldered man, of the type which, in Tuscan phrase, is moulded with the fist and polished with the pickaxe; but the self-important gravity which had written itself out in the deep lines about his brow and mouth seemed intended to correct any contemptuous inferences from the hasty workmanship which Nature had bestowed on his exterior. He had deposited a large well-filled bag, made of skins, on the pavement, and before him hung a pedlar's basket, garnished partly with small woman's-ware, such as thread and pins, and partly with fragments of glass, which had probably been taken in exchange for those commodities.

'Young man,' he said, pointing to a ring on the finger of the reclining figure, 'when your chin has got a stiffer crop on it, you'll know better than to take your nap in street corners with a ring like that on your forefinger. By the holy 'vangels! if it had been anybody but me standing over you two minutes ago — but Bratti Ferravecchi is not the man to steal. The cat couldn't eat her mouse if she didn't catch it alive, and Bratti couldn't relish gain if it had no taste of a bargain. Why, young man, one San Giovanni three years ago, the Saint sent a dead body in my way — a blind beggar, with his cap well lined with pieces — but, if you'll believe me, my stomach turned against the money I'd never bargained for, till it came into my head that San Giovanni owed me the pieces for what I spend yearly at the Festa; besides, I buried the body and paid for a mass — and so I saw it was a fair bargain. But how comes a young man like you, with the face of Messer San Michele, to be sleeping on a stone bed with the wind for a curtain?'

The deep guttural sounds of the speaker were scarcely intelligible to the newly-waked, bewildered listener, but he understood the action of pointing to his ring: he looked down at it, and, with a half-automatic obedience to the warning, took it off and thrust it within his doublet, rising at the same time and stretching himself.

'Your tunic and hose match ill with that jewel, young man,' said Bratti, deliberately. 'Anybody might say the saints had sent you a dead body; but if you took the jewels, I hope you buried him — and you can afford a mass or two for him into the bargain.'

Something like a painful thrill appeared to dart through the frame of the listener, and arrest the careless stretching of his arms and chest. For an instant he turned on Bratti with a sharp frown; but he immediately recovered an air of indifference, took off the red Levantine cap which hung like a great purse over his left ear, pushed back his long dark-brown curls, and glancing at his dress, said, smilingly —

'You speak truth, friend: my garments are as weather-stained as an old sail, and they are not old either, only, like an old sail, they have had a sprinkling of the sea as well as the rain. The fact is, I'm a stranger in Florence, and when I came in footsore last night I preferred flinging myself in a corner of this hospitable porch to hunting any longer for a chance hostelry, which might turn out to be a nest of blood-suckers of more sorts than one.'

'A stranger, in good sooth,' said Bratti, 'for the words come all melting out of your throat, so that a Christian and a Florentine can't tell a hook from a hanger. But you're not from Genoa? More likely from Venice, by the cut of your clothes?'

'At this present moment,' said the stranger, smiling, 'it is of less importance where I come from than where I can go to for a mouthful of breakfast. This city of yours turns a grim look on me just here: can you show me the way to a more lively quarter, where I can get a meal and a lodging?'

'That I can,' said Bratti, 'and it is your good fortune, young man, that I have happened to be walking in from Rovezzano this morning, and turned out of my way to Mercato Vecchio to say an Ave at the Badia. That, I say, is your good fortune. But it remains to be seen what is my profit in the matter. Nothing for nothing, young man. If I show you the way to Mercato Vecchio, you'll swear by your patron saint to let me have the bidding for that stained suit of yours, when you set up a better — as doubtless you will.'

'Agreed, by San Niccolo,' said the other, laughing. 'But now let us set off to this said Mercato, for I feel the want of a better lining to this doublet of mine which you are coveting.'