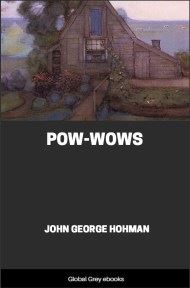 Pow-Wows
John George Hohman
Format: Global Grey free PDF, epub, Kindle ebook
Pages (PDF): 63
Publication Date: 1820
Download Links (below donate buttons):
Stripe:
---
PDF
ePub
Kindle
Summary:
A brilliant little book filled with treatments for every ailment you could possibly think of, including how to disarm a thief, and how to make a dog loyal to you. Written by a Pennsylvania Dutch healer in the 1820s, this book is a rambling collection of rural home remedies and folk invocations. Pow-wow is a unique creole of Christian theology and a shamanistic belief system which is still practiced in some rural areas of Pennsylvania.
More free ebooks:
Excerpt:
A good Remedy for Hysterics (or Mother Fits), to be used three times.--Put that joint of the thumb which sits in the palm of the hand on the bare skin covering the small bone which stands out above the pit of the heart, and speak the following at the same time:

Matrix, patrix, lay thyself right and safe,

Or thou or I shall on the third day fill the grave. + + +

Another Remedy for Hysterics and for Colds.--This must be attended to every evening, that is, whenever you pull off your shoes and stockings, run your finger in between all the toes and smell it. This will certainly effect a cure.

A certain Remedy to stop Bleeding, which cures, no matter how far a person be away, if only his first name is rightly pronounced while using it:

Jesus Christ dearest blood!

That stoppeth the pain and stoppeth the blood.

In this help you [first name] God the Father, God the Son, God the Holy Ghost. Amen.

A remedy to be used when anyone is falling away, and which has cured many persons.--Let the person in perfect soberness and without having conversed with anyone, catch rain in a pot, before sunrise; boil on egg in this; bore three small holes in this egg with a needle, and carry it to an ant-hill made by big ants; and that person will feel relieved as soon as the egg is devoured.

Another Remedy to be applied when anyone is sick, which has effected many a cure where doctors could not help.--Let the sick person, without having conversed with anyone, put water in a bottle before sunrise, close it up tight, and put it immediately in some box or chest. lock it and stop up the keyhole; the key must be carried one of the pockets for three days, as nobody dare have it except the person who puts the bottle with water in the chest or box.

A good Remedy for Worms, to be used for men as well as for Cattle:

Mary, God's Mother, traversed the land,

Holding three worms close in her hand;

One was white, the other was black, the third was red.

This must be repeated three times, at the same time stroking the person or animal with the hand; and at the end of each application strike the back of the person or the animal, to wit: at the first application once, at the second application twice, and at the third application three times; and then set the worms a certain time, but not less than three minutes.

A GOOD REMEDY AGAINST CALUMNIATION OR SLANDER.

If you are calumniated or slandered to your very skin, to your very flesh, to your very bones, cast it back upon the false tongues. + + +

Take off your shirt, and turn it wrong side out, and then run your two thumbs along your body, close under the ribs, starting at the pit of the heart down to the thighs.

A GOOD REMEDY FOR THE COLIC.

I warn ye, ye colic fiends! There is one sitting in judgment, who speaketh: just or unjust. Therefore beware, ye colic fiends! + + +

A GOOD REMEDY FOR THE FEVER.

Good morning, dear Thursday! Take away from [name] the 77-fold fevers. Oh! thou dear Lord Jesus Christ, take them away from him! + + +

This must be used on Thursday for the first time, on Friday for the second time, and on Saturday for the third time; and each time thrice.. The prayer of faith has also to be said each time, and not a word dare be spoken to anyone until the sun has risen. Neither dare the sick per, son speak to anyone till after sunrise; nor eat pork, nor drink milk, nor cross a running water, for nine days.

TO ATTACH A DOG TO A PERSON, PROVIDED NOTHING ELSE WAS USED BEFORE TO EFFECT IT.

Try to draw some of your blood, and let the dog eat it along with his food, and he will stay with you. Or scrape the four corners of your table while you are eating, and continue to eat with the same knife after having scraped the corners of the table. Let the dog eat those scrapings, and he will stay with you.

A VERY GOOD REMEDY FOR PALPITATION OF THE HEART, AND FOR PERSONS WHO ARE HIDE-BOUND.

Palpitation and hide-bound, be off [name] ribs,

Since Christ, our Lord, spoke truth with his lips.

A PRECAUTION AGAINST INJURIES.

Whoever carries the right eye of a wolf fastened inside of his right sleeve, remains free from all injuries.
---
---
⇧ Back to top
---