Book: Peeps At Many Lands: Ancient Egypt
Author: James Baikie
---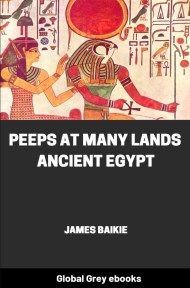 Format: Free Scanned PDF
Pages (PDF): 127
Publication Date: 1912
Download link is below the donate buttons
Donate with PayPal (using either a Paypal account or credit/debit card).
Donate via Donorbox using the secure payment gateway Stripe (with credit/debit card)
Donate
Download Link for 'Peeps At Many Lands: Ancient Egypt':
Download PDF
Summary:
Baikie's book looks at the more personal aspects of Ancient Egypt. Chapters include Pharoah at Home, The Life of a Soldier, Child Life in Ancient Egypt and A Day in Thebes. It also has 2 chapters on fairy tales. With 16 full page illustrations.
---
---
More books you might like: