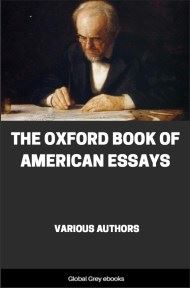 The Oxford Book of American Essays
Format: Global Grey free PDF, epub, Kindle ebook
Pages (PDF): 414
Publication Date: 1914
Download Links:
I run this site on my own and spend a lot of time (and money) creating these ebooks. Please support the site by buying a collection or by making a small donation using the buttons below.
PDF
ePub
Kindle
Stripe(£GBP):
Summary:
A collection of essays, including: The Ephemera: An Emblem Of Human Life By Benjamin Franklin; The Whistle By Benjamin Franklin; Dialogue Between Franklin And The Gout; Consolation For The Old Bachelor By Francis Hopkinson; John Bull By Washington Irving; The Mutability Of Literature; A Colloquy In Westminster Abbey By Washington Irving; Kean's Acting By Richard Henry Dana; Gifts By Ralph Waldo Emerson; Uses Of Great Men By Ralph Waldo Emerson; Buds And Bird-Voices By Nathaniel Hawthorne; The Philosophy Of Composition By Edgar Allan Poe; Bread And The Newspaper By Oliver Wendell Holmes; Walking By Henry David Thoreau; On A Certain Condescension In Foreigners By James Russell Lowell; Preface To "Leaves Of Grass" (1855) By Walt Whitman; Americanism In Literature By Thomas Wentworth Higginson, and many more.
More books you might like:
Excerpt:
Mr. Aitken: Your Old Bachelor having pathetically represented the miseries of his solitary situation, severely reproaching himself for having neglected to marry in his younger days, I would fain alleviate his distress, by showing that it is possible he might have been as unhappy—even in the honorable state of matrimony.

I am a shoemaker in this city, and by my industry and attention have been enabled to maintain my wife and a daughter, now six years old, in comfort and respect; and to lay by a little at the year's end, against a rainy day.

My good wife had long teased me to take her to New York, in order to visit Mrs. Snip, the lady of an eminent taylor in that city, and her cousin; from whom she had received many pressing invitations.

This jaunt had been the daily subject of discussion at breakfast, dinner, and supper for a month before the time fixed upon for putting it in execution. As our daughter Jenny could by no means be left at home, many and great were the preparations to equip Miss and her Mamma for this important journey; and yet, as my wife assured me, there was nothing provided but what was absolutely necessary, and which we could not possibly do without. My purse sweat at every pore.

At last, the long-expected day arrived, preceded by a very restless night. For, as my wife could not sleep for thinking on the approaching jaunt, neither would she suffer me to repose in quiet. If I happened through wearisomeness to fall into a slumber, she immediately roused me by some unseasonable question or remark: frequently asking if I was sure the apprentice had greased the chair-wheels, and seen that the harness was clean and in good order; often observing how surprised her cousin Snip would be to see us; and as often wondering how poor dear Miss Jenny would bear the fatigue of the journey. Thus past the night in delightful discourse, if that can with propriety be called a discourse, wherein my wife was the only speaker—my replies never exceeding the monosyllables yes or no, murmured between sleeping and waking.

No sooner was it fair daylight, but up started my notable wife, and soon roused the whole family. The little trunk was stuffed with baggage, even to bursting, and tied behind the chair, and the chair-box was crammed with trumpery which we could not possibly do without. Miss Jenny was drest, and breakfast devoured in haste: the old negro wench was called in, and the charge of the house committed to her care; and the two apprentices and the hired maid received many wholesome cautions and instructions for their conduct during our absence, all which they most liberally promised to observe; whilst I attended, with infinite patience, the adjustment of these preliminaries.

At length, however, we set off, and, turning the first corner, lost sight of our habitation, with great regret on my part, and no less joy on the part of Miss Jenny and her Mamma. When we got to Poole's Bridge, there happened to be a great concourse of wagons, carts, &c., so that we could not pass for some time—Miss Jenny frightened—my wife very impatient and uneasy—wondered I did not call out to those impudent fellows to make way for us; observing that I had not the spirit of a louse. Having got through this difficulty, we proceeded without obstruction—my wife in good-humor again—Miss Jenny in high spirits. At Kensington fresh troubles arise. "Bless me, Miss Jenny," says my wife, "where is the bandbox?" "I don't know, Mamma; the last time I saw it, it was on the table in your room." What's to be done? The bandbox is left behind—it contains Miss Jenny's new wire-cap—there is no possibility of doing without it—as well no New York as no wire-cap—there is no alternative, we must e'en go back for it. Teased and mortified as I was, my good wife administered consolation by observing, "That it was my business to see that everything was put into the chair that ought to be, but there was no depending upon me for anything; and that she plainly saw I undertook this journey with an ill-will, merely because she had set her heart upon it." Silent patience was my only remedy. An hour and a half restored to us this essential requisite—the wire-cap—and brought us back to the place where we first missed it.

After innumerable difficulties and unparalleled dangers, occasioned by ruts, stumps, and tremendous bridges, we arrived at Neshamony ferry: but how to cross it was the question. My wife protested that neither she nor Jenny would go over in the boat with the horse. I assured her that there was not the least danger; that the horse was as quiet as a dog, and that I would hold him by the bridle all the way. These assurances had little weight: the most forcible argument was that she must go that way or not at all, for there was no other boat to be had. Thus persuaded, she ventured in—the flies were troublesome—the horse kicked—my wife in panics—Miss Jenny in tears. Ditto at Trenton-ferry.

As we started pretty early, and as the days were long, we reached Trenton by two o'clock. Here we dined. My wife found fault with everything; and whilst she disposed of what I thought a tolerable hearty meal, declared there was nothing fit to eat. Matters, however, would have gone on pretty well, but Miss Jenny began to cry with the toothache—sad lamentations over Miss Jenny—all my fault because I had not made the glazier replace a broken pane in her chamber window. N. B. I had been twice for him, and he promised to come, but was not so good as his word.

After dinner we again entered upon our journey—my wife in good-humor—Miss Jenny's toothache much easier—various chat—I acknowledge everything my wife says for fear of discomposing her. We arrive in good time at Princetown. My wife and daughter admire the College. We refresh ourselves with tea, and go to bed early, in order to be up by times for the next day's expedition.
---
---
⇧ Back to top
---