Book: On Benefits
Author: Seneca
---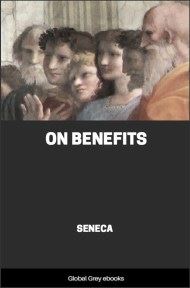 Format: Global Grey free PDF, epub, Kindle ebook
Pages (PDF): 180
Publication Date: This translation by Aubrey Stewart, 1887
Download links are below the donate buttons
Donate with PayPal (using either a Paypal account or credit/debit card).
Donate via Donorbox using the secure payment gateway Stripe (with credit/debit card)
Donate
Summary:
Lucius Annaeus Seneca was a Roman Stoic philosopher (c. 4 BC - AD 65), and tutor to the emperor Nero. This book, On Benefits, forms part of a series of moral essays written by Seneca. Comprised of seven books plus a Preface by the translator Aubrey Stewart.
---
---
More books you might like:
Excerpt:
I. Among the numerous faults of those who pass their lives recklessly and without due reflexion, my good friend Liberalis, I should say that there is hardly any one so hurtful to society as this, that we neither know how to bestow or how to receive a benefit. It follows from this that benefits are badly invested, and become bad debts: in these cases it is too late to complain of their not being returned, for they were thrown away when we bestowed them. Nor need we wonder that while the greatest vices are common, none is more common than ingratitude: for this I see is brought about by various causes. The first of these is, that we do not choose worthy persons upon whom to bestow our bounty, but although when we are about to lend money we first make a careful enquiry into the means and habits of life of our debtor, and avoid sowing seed in a worn-out or unfruitful soil, yet without any discrimination we scatter our benefits at random rather than bestow them. It is hard to say whether it is more dishonourable for the receiver to disown a benefit, or for the giver to demand a return of it: for a benefit is a loan, the repayment of which depends merely upon the good feeling of the debtor. To misuse a benefit like a spendthrift is most shameful, because we do not need our wealth but only our intention to set us free from the obligation of it; for a benefit is repaid by being acknowledged. Yet while they are to blame who do not even show so much gratitude as to acknowledge their debt, we ourselves are to blame no less.

We find many men ungrateful, yet we make more men so, because at one time we harshly and reproachfully demand some return for our bounty, at another we are fickle and regret what we have given, at another we are peevish and apt to find fault with trifles. By acting thus we destroy all sense of gratitude, not only after we have given anything, but while we are in the act of giving it. Who has ever thought it enough to be asked for anything in an off-hand manner, or to be asked only once? Who, when he suspected that he was going to be asked for any thing, has not frowned, turned away his face, pretended to be busy, or purposely talked without ceasing, in order not to give his suitor a chance of preferring his request, and avoided by various tricks having to help his friend in his pressing need? and when driven into a corner, has not either put the matter off, that is, given a cowardly refusal, or promised his help ungraciously, with a wry face, and with unkind words, of which he seemed to grudge the utterance. Yet no one is glad to owe what he has not so much received from his benefactor, as wrung out of him. Who can be grateful for what has been disdainfully flung to him, or angrily cast at him, or been given him out of weariness, to avoid further trouble? No one need expect any return from those whom he has tired out with delays, or sickened with expectation.

A benefit is received in the same temper in which it is given, and ought not, therefore, to be given carelessly, for a man thanks himself for that which he receives without the knowledge of the giver. Neither ought we to give after long delay, because in all good offices the will of the giver counts for much, and he who gives tardily must long have been unwilling to give at all. Nor, assuredly, ought we to give in offensive manner, because human nature is so constituted that insults sink deeper than kindnesses; the remembrance of the latter soon passes away, while that of the former is treasured in the memory; so what can a man expect who insults while he obliges? All the gratitude which he deserves is to be forgiven for helping us. On the other hand, the number of the ungrateful ought not to deter us from earning men's gratitude; for, in the first place, their number is increased by our own acts. Secondly, the sacrilege and indifference to religion of some men does not prevent even the immortal gods from continuing to shower their benefits upon us: for they act according to their divine nature and help all alike, among them even those who so ill appreciate their bounty. Let us take them for our guides as far as the weakness of our mortal nature permits; let us bestow benefits, not put them out at interest. The man who while he gives thinks of what he will get in return, deserves to be deceived. But what if the benefit turns out ill? Why, our wives and our children often disappoint our hopes, yet we marry — and bring up children, and are so obstinate in the face of experience that we fight after we have been beaten, and put to sea after we have been shipwrecked. How much more constancy ought we to show in bestowing benefits! If a man does not bestow benefits because he has not received any, he must have bestowed them in order to receive them in return, and he justifies ingratitude, whose disgrace lies in not returning benefits when able to do so. How many are there who are unworthy of the light of day? and nevertheless the sun rises. How many complain because they have been born? yet Nature is ever renewing our race, and even suffers men to live who wish that they had never lived. It is the property of a great and good mind to covet, not the fruit of good deeds, but good deeds themselves, and to seek for a good man even after having met with bad men. If there were no rogues, what glory would there be in doing good to many? As it is, virtue consists in bestowing benefits for which we are not certain of meeting with any return, but whose fruit is at once enjoyed by noble minds. So little influence ought this to have in restraining us from doing good actions, that even though I were denied the hope of meeting with a grateful man, yet the fear of not having my benefits returned would not prevent my bestowing them, because he who does not give, forestalls the vice of him who is ungrateful. I will explain what I mean. He who does not repay a benefit, sins more, but he who does not bestow one, sins earlier.

"If thou at random dost thy bounties waste,
Much must be lost, for one that's rightly placed."