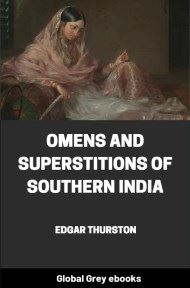 Omens and Superstitions of Southern India
Edgar Thurston
Format: Global Grey free PDF, epub, Kindle ebook, or read online
Pages (PDF): 237
Publication Date: 1912
Download Links (below donate buttons):
Stripe:
---
PDF
ePub
Kindle
Online
Summary:
Chapters include: Omens; Animal Superstitions; The Evil Eye; Snake Worship; Vows, Votive and other Offerings; Charms; Human Sacrifice; Magic and Human Life; Magic and Magicians; Divination and Fortune-Telling; Some Agricultural Ceremonies; and, Rain-Making Ceremonies.
More free ebooks:
Excerpt:
In seeking for omens, Natives consult the so-called science of omens or science of the five birds, and are guided by them. Selected omens are always included in native calendars or panchāngams.

To the quivering and throbbing of various parts of the body as omens, repeated reference is made in the Hindu classics. Thus, in Kalidāsa's Sakuntala, King Dushyanta says: "This hermitage is tranquil, and yet my arm throbs. Whence can there be any result from this in such a place? But yet the gates of destiny are everywhere." Again, Sakuntala says: "Alas! why does my right eye throb?" to which Gautami replies: "Child, the evil be averted. May the tutelary deities of your husband's family confer happy prospects!" In the Raghuvamsa, the statement occurs that "the son of Paulastya, being greatly incensed, drove an arrow deep into his right arm, which was throbbing, and which, therefore, prognosticated his union with Sīta." A quivering sensation in the right arm is supposed to indicate marriage with a beautiful woman; in the right eye some good luck.

During a marriage among the Telugu Tottiyans, who have settled in the Tamil country, a red ram without blemish is sacrificed. It is first sprinkled with water, and, if it shivers, this is considered a good omen. It is recorded, in connection with the legends of the Badagas of the Nīlgiris, that "in the heart of the Banagudi shola (grove), not far from the Doddūru group of cromlechs, is an odd little shrine to Karairāya, within which are a tiny cromlech, some sacred water-worn stones, and sundry little pottery images representing a tiger, a mounted man, and some dogs. These keep in memory, it is said, a Badaga who was slain in combat with a tiger; and annually a festival is held, at which new images are placed there, and vows are paid. A Kurumba (jungle tribe) makes fire by friction, and burns incense, throws sanctified water over the numerous goats brought to be sacrificed, to see if they will shiver in the manner always held necessary in sacrificed victims, and then slays, one after the other, those which have shown themselves duly qualified."

In many villages, during the festival to the village deity, water is poured over a sheep's back, and it is accepted as a good sign if it shivers. "When the people are economical, they keep on pouring water till it does shiver, to avoid the expense of providing a second victim for sacrifice. But, where they are more scrupulous, if it does not shiver, it is taken as a sign that the goddess will not accept it, and it is taken away."

Before the thieving Koravas set out on a predatory expedition, a goat is decorated, and taken to a shrine. It is then placed before the idol, which is asked whether the expedition will be successful. If the body of the animal quivers, it is regarded as an answer in the affirmative; if it does not, the expedition is abandoned. If, in addition to quivering, the animal urinates, no better sign could be looked for. Thieves though they are, the Koravas make it a point of honour to pay for the goat used in the ceremony. It is said that, in seeking omens from the quivering of an animal, a very liberal interpretation is put on the slightest movement. It is recorded by Bishop Whitehead that, when an animal has been sacrificed to the goddess Nukalamma at Coconada, its head is put before the shrine, and water poured on it. If the mouth opens, it is accepted as a sign that the sacrifice is accepted.

At the death ceremonies of the Idaiyans of Coimbatore, a cock is tied to a sacrificial post, to which rice is offered. One end of a thread is tied to the post, and the other end to a new cloth. The thread is watched till it shakes, and then broken. The cock is then killed.

Of omens, both good and bad, in Malabar, the following comprehensive list is given by Mr Logan:—

"Good.—Crows, pigeons, etc., and beasts as deer, etc., moving from left to right, and dogs and jackals moving inversely, and other beasts found similarly and singly; wild crow, ruddy goose, mungoose, goat, and peacock seen singly or in couples either at the right or left. A rainbow seen on the right and left, or behind, prognosticates good, but the reverse if seen in front. Buttermilk, raw rice, puttalpira (Trichosanthes anguina, snake-gourd), priyangu flower, honey, ghī (clarified butter); red cotton juice, antimony sulphurate, metal mug, bell ringing, lamp, lotus, karuka grass, raw fish, flesh, flour, ripe fruits, sweetmeats, gems, sandalwood, elephants, pots filled with water, a virgin, a couple of Brāhmans, Rājas, respectable men, white flower, white yak tail, white cloth, and white horse. Chank shell (Turbinella rapa), flagstaff, turban, triumphal arch, fruitful soil, burning fire, elegant eatables or drinkables, carts with men in, cows with their young, mares, bulls or cows with ropes tied to their necks, palanquin, swans, peacock and crane warbling sweetly. Bracelets, looking-glass, mustard, bezoar, any substance of white colour, the bellowing of oxen, auspicious words, harmonious human voice, such sounds made by birds or beasts, the uplifting of umbrellas, hailing exclamations, sound of harp, flute, timbrel, tabor, and other instruments of music, sounds of hymns of consecration and Vēdic recitations, gentle breeze all round at the time of a journey.
---
---
⇧ Back to top
---