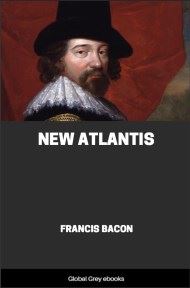 New Atlantis
Format: Global Grey free PDF, epub, Kindle ebook
Pages (PDF): 36
Publication Date: 1627
Download Links:
I run this site on my own and spend a lot of time (and money) creating these ebooks. Please support the site by buying a collection; like the Fiction one for only £7 or by making a small donation using the buttons below.
PDF
ePub
Kindle
Stripe(£GBP):
Summary:
New Atlantis is a utopian novel by Sir Francis Bacon, published in Latin (as Nova Atlantis) in 1624 and in English in 1627. In this work, Bacon portrayed a vision of the future of human discovery and knowledge, expressing his aspirations and ideals for humankind. The novel depicts the creation of a utopian land where "generosity and enlightenment, dignity and splendour, piety and public spirit" are the commonly held qualities of the inhabitants of the mythical Bensalem.
More books you might like:
Excerpt:
We sailed from Peru, (where we had continued for the space of one whole year) for China and Japan, by the South Sea; taking with us victuals for twelve months; and had good winds from the east, though soft and weak, for five months space, and more. But the wind came about, and settled in the west for many days, so as we could make little or no way, and were sometime in purpose to turn back. But then again there arose strong and great winds from the south, with a point east, which carried us up (for all that we could do) towards the north; by which time our victuals failed us, though we had made good spare of them. So that finding ourselves, in the midst of the greatest wilderness of waters in the world, without victuals, we gave ourselves for lost men and prepared for death. Yet we did lift up our hearts and voices to God above, who showeth his wonders in the deep, beseeching him of his mercy, that as in the beginning he discovered the face of the deep, and brought forth dry land, so he would not discover land to us, that we might not perish. And it came to pass that the next day about evening we saw within a kenning before us, towards the north, as it were thick clouds, which did put us in some hope of land; knowing how that part of the South Sea was utterly unknown; and might have islands, or continents, that hitherto were not come to light. Wherefore we bent our course thither, where we saw the appearance of land, all that night; and in the dawning of the next day, we might plainly discern that it was a land; flat to our sight, and full of boscage; which made it show the more dark. And after an hour and a half's sailing, we entered into a good haven, being the port of a fair city; not great indeed, but well built, and that gave a pleasant view from the sea: and we thinking every minute long, till we were on land, came close to the shore, and offered to land. But straightways we saw divers of the people, with bastons in their hands (as it were) forbidding us to land; yet without any cries of fierceness, but only as warning us off, by signs that they made. Whereupon being not a little discomforted, we were advising with ourselves, what we should do.

During which time, there made forth to us a small boat, with about eight persons in it; whereof one of them had in his hand a tipstaff of a yellow cane, tipped at both ends with blue, who came aboard our ship, without any show of distrust at all. And when he saw one of our number, present himself somewhat before the rest, he drew forth a little scroll of parchment (somewhat yellower than our parchment, and shining like the leaves of writing tables, but otherwise soft and flexible,) and delivered it to our foremost man. In which scroll were written in ancient Hebrew, and in ancient Greek, and in good Latin of the school, and in Spanish, these words: Land ye not, none of you; and provide to be gone from this coast, within sixteen days, except you have further time given you. Meanwhile, if you want fresh water or victuals, or help for your sick, or that your ship needeth repairs, write down your wants, and you shall have that, which belongeth to mercy. This scroll was signed with a stamp of cherubim: wings, not spread, but hanging downwards; and by them a cross. This being delivered, the officer returned, and left only a servant with us to receive our answer.

Consulting hereupon amongst ourselves, we were much perplexed. The denial of landing and hasty warning us away troubled us much; on the other side, to find that the people had languages, and were so full of humanity, did comfort us not a little. And above all, the sign of the cross to that instrument was to us a great rejoicing, and as it were a certain presage of good. Our answer was in the Spanish tongue; that for our ship, it was well; for we had rather met with calms and contrary winds than any tempests. For our sick, they were many, and in very ill case; so that if they were not permitted to land, they ran danger of their lives. Our other wants we set down in particular; adding, That we had some little store of merchandise, which if it pleased them to deal for, it might supply our wants, without being chargeable unto them. We offered some reward in pistolets unto the servant, and a piece of crimson velvet to be presented to the officer; but the servant tools them not, nor would scarce look upon them; and so left us, and went back in another little boat, which was sent for him.

About three hours after we had dispatched our answer, there came towards us a person (as it seemed) of place. He had on him a gown with wide sleeves, of a kind o£ water chamolet, of an excellent azure colour, fair more glossy than ours; his under apparel was green; and so was his hat, being in the form of a turban, daintily made, and not so huge as the Turkish turbans; and the locks of his hair came down below the brims of it. A reverend man was he to behold. He came in a boat, gilt in some part of it, with four persons more only in that boat; and was followed by another boat, wherein were some twenty. When he was come within a flightshot of our ship, signs were made to us, that we should send forth some to meet him upon the water; which we presently did in our ship-boat, sending the principal man amongst us save one, and four of our number with him.
---
---
⇧ Back to top
---