Book: A Modern Comedy
Author: John Galsworthy
---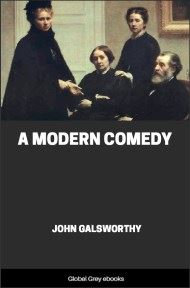 Format: Global Grey free PDF, epub, Kindle ebook
Pages (PDF): 976
Publication Date: 1924-1928
Download links are below the donate buttons
Donate with PayPal (using either a Paypal account or credit/debit card).
Donate via Donorbox using the secure payment gateway Stripe (with credit/debit card)
Donate
Summary:
The second trilogy of novels by John Galsworthy continuing the original trilogy of The Forsyte Saga. This trilogy includes a novel, The White Monkey (1924), an interlude, A Silent Wooing (1927), a second novel, The Silver Spoon (1926), a second interlude, Passers By (1927), and a third novel Swan Song (1928).
---
---
More books you might like:
Excerpt:
Coming down the steps of 'Snooks' Club, so nicknamed by George Forsyte in the late eighties, on that momentous mid-October afternoon of 1922, Sir Lawrence Mont, ninth baronet, set his fine nose towards the east wind, and moved his thin legs with speed. Political by birth rather than by nature, he reviewed the revolution which had restored his Party to power with a detachment not devoid of humour. Passing the Remove Club, he thought: 'Some sweating into shoes, there! No more confectioned dishes. A woodcock — without trimmings, for a change!'

The captains and the kings had departed from 'Snooks' before he entered it, for he was not of 'that catch-penny crew, now paid off, no sir; fellows who turned their tails on the land the moment the war was over. Pah!' But for an hour he had listened to echoes, and his lively twisting mind, embedded in deposits of the past, sceptical of the present and of all political protestations and pronouncements, had recorded with amusement the confusion of patriotism and personalities left behind by the fateful gathering. Like most landowners, he distrusted doctrine. If he had a political belief, it was a tax on wheat; and so far as he could see, he was now alone in it — but then he was not seeking election; in other words, his principle was not in danger of extinction from the votes of those who had to pay for bread. Principles — he mused — au fond were pocket; and he wished the deuce people wouldn't pretend they weren't! Pocket, in the deep sense of that word, of course, self-interest as member of a definite community. And how the devil was this definite community, the English nation, to exist, when all its land was going out of cultivation, and all its ships and docks in danger of destruction by aeroplanes? He had listened that hour past for a single mention of the land. Not one! It was not practical politics! Confound the fellows! They had to wear their breeches out — keeping seats or getting them. No connection between posteriors and posterity! No, by George! Thus reminded of posterity, it occurred to him rather suddenly that his son's wife showed no signs as yet. Two years! Time they were thinking about children. It was dangerous to get into the habit of not having them, when a title and estate depended. A smile twisted his lips and eyebrows which resembled spinneys of dark pothooks. A pretty young creature, most taking; and knew it, too! Whom was she not getting to know? Lions and tigers, monkeys and cats — her house was becoming quite a menagerie of more or less celebrities. There was a certain unreality about that sort of thing! And opposite a British lion in Trafalgar Square Sir Lawrence thought: 'She'll be getting these to her house next! She's got the collecting habit. Michael must look out — in a collector's house there's always a lumber room for old junk, and husbands are liable to get into it. That reminds me: I promised her a Chinese Minister. Well, she must wait now till after the General Election.'

Down Whitehall, under the grey easterly sky, the towers of Westminster came for a second into view. 'A certain unreality in that, too,' he thought. 'Michael and his fads! Well, it's the fashion — Socialistic principles and a rich wife. Sacrifice with safety! Peace with plenty! Nostrums — ten a penny!'

Passing the newspaper hubbub of Charing Cross, frenzied by the political crisis, he turned up to the left towards Danby and Winter, publishers, where his son was junior partner. A new theme for a book had just begun to bend a mind which had already produced a 'Life of Montrose,' 'Far Cathay,' that work of Eastern travel, and a fanciful conversation between the shades of Gladstone and Disraeli — entitled 'A Duet.' With every step taken, from 'Snooks' eastward, his erect thin figure in Astrakhan-collared coat, his thin grey-moustached face, and tortoise-shell rimmed monocle under the lively dark eyebrow, had seemed more rare. It became almost a phenomenon in this dingy back street, where carts stuck like winter flies, and persons went by with books under their arms, as if educated.

He had nearly reached the door of Danby's when he encountered two young men. One of them was clearly his son, better dressed since his marriage, and smoking a cigar — thank goodness — instead of those eternal cigarettes; the other — ah! yes — Michael's sucking poet and best man, head in air, rather a sleek head under a velour hat! He said:

"Ha, Michael!"

"HALLO, Bart! You know my governor, Wilfrid? Wilfrid Desert. 'Copper Coin'— some poet, Bart, I tell you. You must read him. We're going home. Come along!"

Sir Lawrence went along.

"What happened at 'Snooks'?"

"Le roi est mort. Labour can start lying, Michael — election next month."

"Bart was brought up, Wilfrid, in days that knew not Demos."

"Well, Mr. Desert, do you find reality in politics now?"