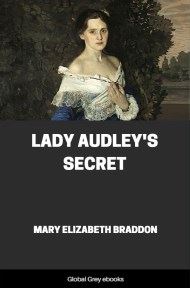 Lady Audley's Secret
Mary Elizabeth Braddon
Format: Global Grey free PDF, epub, Kindle ebook, or read online
Pages (PDF): 434
Publication Date: 1862
Download Links:
I run this site on my own and spend a lot of time (and money) creating these ebooks. Please support the site by buying a collection; like the Fiction one for only £7 or by making a small donation using the buttons below.
PDF
ePub
Kindle
Online
Stripe(£GBP):
Summary:
Classed as a 'sensation novel', Lady Audley's Secret tells the story of Lady Audley, a protest against the usual passive 19th-century heroine. Summarised by one literary critic in the following words: 'Braddon's bigamous heroine deserts her child, pushes husband number one down a well, thinks about poisoning husband number two and sets fire to a hotel in which her other male acquaintances are residing'.
More books you might like:
Excerpt:
It lay down in a hollow, rich with fine old timber and luxuriant pastures; and you came upon it through an avenue of limes, bordered on either side by meadows, over the high hedges of which the cattle looked inquisitively at you as you passed, wondering, perhaps, what you wanted; for there was no thorough-fare, and unless you were going to the Court you had no business there at all.

At the end of this avenue there was an old arch and a clock tower, with a stupid, bewildering clock, which had only one hand—and which jumped straight from one hour to the next—and was therefore always in extremes. Through this arch you walked straight into the gardens of Audley Court.

A smooth lawn lay before you, dotted with groups of rhododendrons, which grew in more perfection here than anywhere else in the county. To the right there were the kitchen gardens, the fish-pond, and an orchard bordered by a dry moat, and a broken ruin of a wall, in some places thicker than it was high, and everywhere overgrown with trailing ivy, yellow stonecrop, and dark moss. To the left there was a broad graveled walk, down which, years ago, when the place had been a convent, the quiet nuns had walked hand in hand; a wall bordered with espaliers, and shadowed on one side by goodly oaks, which shut out the flat landscape, and circled in the house and gardens with a darkening shelter. The house faced the arch, and occupied three sides of a quadrangle. It was very old, and very irregular and rambling. The windows were uneven; some small, some large, some with heavy stone mullions and rich stained glass; others with frail lattices that rattled in every breeze; others so modern that they might have been added only yesterday. Great piles of chimneys rose up here and there behind the pointed gables, and seemed as if they were so broken down by age and long service that they must have fallen but for the straggling ivy which, crawling up the walls and trailing even over the roof, wound itself about them and supported them. The principal door was squeezed into a corner of a turret at one angle of the building, as if it were in hiding from dangerous visitors, and wished to keep itself a secret—a noble door for all that—old oak, and studded with great square-headed iron nails, and so thick that the sharp iron knocker struck upon it with a muffled sound, and the visitor rung a clanging bell that dangled in a corner among the ivy, lest the noise of the knocking should never penetrate the stronghold.

A glorious old place. A place that visitors fell in raptures with; feeling a yearning wish to have done with life, and to stay there forever, staring into the cool fish-ponds and counting the bubbles as the roach and carp rose to the surface of the water. A spot in which peace seemed to have taken up her abode, setting her soothing hand on every tree and flower, on the still ponds and quiet alleys, the shady corners of the old-fashioned rooms, the deep window-seats behind the painted glass, the low meadows and the stately avenues—ay, even upon the stagnant well, which, cool and sheltered as all else in the old place, hid itself away in a shrubbery behind the gardens, with an idle handle that was never turned and a lazy rope so rotten that the pail had broken away from it, and had fallen into the water.

A noble place; inside as well as out, a noble place—a house in which you incontinently lost yourself if ever you were so rash as to attempt to penetrate its mysteries alone; a house in which no one room had any sympathy with another, every chamber running off at a tangent into an inner chamber, and through that down some narrow staircase leading to a door which, in its turn, led back into that very part of the house from which you thought yourself the furthest; a house that could never have been planned by any mortal architect, but must have been the handiwork of that good old builder, Time, who, adding a room one year, and knocking down a room another year, toppling down a chimney coeval with the Plantagenets, and setting up one in the style of the Tudors; shaking down a bit of Saxon wall, allowing a Norman arch to stand here; throwing in a row of high narrow windows in the reign of Queen Anne, and joining on a dining-room after the fashion of the time of Hanoverian George I, to a refectory that had been standing since the Conquest, had contrived, in some eleven centuries, to run up such a mansion as was not elsewhere to be met with throughout the county of Essex. Of course, in such a house there were secret chambers; the little daughter of the present owner, Sir Michael Audley, had fallen by accident upon the discovery of one. A board had rattled under her feet in the great nursery where she played, and on attention being drawn to it, it was found to be loose, and so removed, revealed a ladder, leading to a hiding-place between the floor of the nursery and the ceiling of the room below—a hiding-place so small that he who had hid there must have crouched on his hands and knees or lain at full length, and yet large enough to contain a quaint old carved oak chest, half filled with priests' vestments, which had been hidden away, no doubt, in those cruel days when the life of a man was in danger if he was discovered to have harbored a Roman Catholic priest, or to have mass said in his house.

The broad outer moat was dry and grass-grown, and the laden trees of the orchard hung over it with gnarled, straggling branches that drew fantastical shadows upon the green slope. Within this moat there was, as I have said, the fish-pond—a sheet of water that extended the whole length of the garden and bordering which there was an avenue called the lime-tree walk; an avenue so shaded from the sun and sky, so screened from observation by the thick shelter of the over-arching trees that it seemed a chosen place for secret meetings or for stolen interviews; a place in which a conspiracy might have been planned, or a lover's vow registered with equal safety; and yet it was scarcely twenty paces from the house.
---
---
⇧ Back to top
---