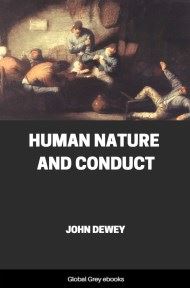 Human Nature and Conduct
Format: Global Grey free PDF, epub, Kindle ebook
Pages (PDF): 217
Publication Date: 1922
Download Links:
I run this site on my own and spend a lot of time (and money) creating these ebooks. Please support the site by buying a collection; like the Mind and Body one for only £4 or by making a small donation using the buttons below.
PDF
ePub
Kindle
Stripe(£GBP):
Summary:
From the Introduction: '"Give a dog a bad name and hang him." Human nature has been the dog of professional moralists, and consequences accord with the proverb. Man's nature has been regarded with suspicion, with fear, with sour looks, sometimes with enthusiasm for its possibilities but only when these were placed in contrast with its actualities. It has appeared to be so evilly disposed that the business of morality was to prune and curb it; it would be thought better of if it could be replaced by something else. It has been supposed that morality would be quite superfluous were it not for the inherent weakness, bordering on depravity, of human nature.'
More books you might like:
Excerpt:
Habits may be profitably compared to physiological functions, like breathing, digesting. The latter are, to be sure, involuntary, while habits are acquired. But important as is this difference for many purposes it should not conceal the fact that habits are like functions in many respects, and especially in requiring the cooperation of organism and environment. Breathing is an affair of the air as truly as of the lungs; digesting an affair of food as truly as of tissues of stomach. Seeing involves light just as certainly as it does the eye and optic nerve. Walking implicates the ground as well as the legs; speech demands physical air and human companionship and audience as well as vocal organs. We may shift from the biological to the mathematical use of the word function, and say that natural operations like breathing and digesting, acquired ones like speech and honesty, are functions of the surroundings as truly as of a person. They are things done by the environment by means of organic structures or acquired dispositions. The same air that under certain conditions ruffles the pool or wrecks buildings, under other conditions purifies the blood and conveys thought. The outcome depends upon what air acts upon. The social environment acts through native impulses and speech and moral habitudes manifest themselves. There are specific good reasons for the usual attribution of acts to the person from whom they immediately proceed. But to convert this special reference into a belief of exclusive ownership is as misleading as to suppose that breathing and digesting are complete within the human body. To get a rational basis for moral discussion we must begin with recognizing that functions and habits are ways of using and incorporating the environment in which the latter has its say as surely as the former.

We may borrow words from a context less technical than that of biology, and convey the same idea by saying that habits are arts. They involve skill of sensory and motor organs, cunning or craft, and objective materials. They assimilate objective energies, and eventuate in command of environment. They require order, discipline, and manifest technique. They have a beginning, middle and end. Each stage marks progress in dealing with materials and tools, advance in converting material to active use. We should laugh at any one who said that he was master of stone working, but that the art was cooped up within himself and in no wise dependent upon support from objects and assistance from tools.

In morals we are however quite accustomed to such a fatuity. Moral dispositions are thought of as belonging exclusively to a self. The self is thereby isolated from natural and social surroundings. A whole school of morals flourishes upon capital drawn from restricting morals to character and then separating character from conduct, motives from actual deeds. Recognition of the analogy of moral action with functions and arts uproots the causes which have made morals subjective and "individualistic." It brings morals to earth, and if they still aspire to heaven it is to the heavens of the earth, and not to another world. Honesty, chastity, malice, peevishness, courage, triviality, industry, irresponsibility are not private possessions of a person. They are working adaptations of personal capacities with environing forces. All virtues and vices are habits which incorporate objective forces. They are interactions of elements contributed by the make-up of an individual with elements supplied by the out-door world. They can be studied as objectively as physiological functions, and they can be modified by change of either personal or social elements.

If an individual were alone in the world, he would form his habits (assuming the impossible, namely, that he would be able to form them) in a moral vacuum. They would belong to him alone, or to him only in reference to physical forces. Responsibility and virtue would be his alone. But since habits involve the support of environing conditions, a society or some specific group of fellow-men, is always accessory before and after the fact. Some activity proceeds from a man; then it sets up reactions in the surroundings. Others approve, disapprove, protest, encourage, share and resist. Even letting a man alone is a definite response. Envy, admiration and imitation are complicities. Neutrality is non-existent. Conduct is always shared; this is the difference between it and a physiological process. It is not an ethical "ought" that conduct should be social. It is social, whether bad or good.

Washing one's hands of the guilt of others is a way of sharing guilt so far as it encourages in others a vicious way of action. Non-resistance to evil which takes the form of paying no attention to it is a way of promoting it. The desire of an individual to keep his own conscience stainless by standing aloof from badness may be a sure means of causing evil and thus of creating personal responsibility for it. Yet there are circumstances in which passive resistance may be the most effective form of nullification of wrong action, or in which heaping coals of fire on the evil-doer may be the most effective way of transforming conduct. To sentimentalize over a criminal—to "forgive" because of a glow of feeling—is to incur liability for production of criminals. But to suppose that infliction of retributive suffering suffices, without reference to concrete consequences, is to leave untouched old causes of criminality and to create new ones by fostering revenge and brutality. The abstract theory of justice which demands the "vindication" of law irrespective of instruction and reform of the wrong-doer is as much a refusal to recognize responsibility as is the sentimental gush which makes a suffering victim out of a criminal.

Courses of action which put the blame exclusively on a person as if his evil will were the sole cause of wrong-doing and those which condone offense on account of the share of social conditions in producing bad disposition, are equally ways of making an unreal separation of man from his surroundings, mind from the world. Causes for an act always exist, but causes are not excuses. Questions of causation are physical, not moral except when they concern future consequences. It is as causes of future actions that excuses and accusations alike must be considered. At present we give way to resentful passion, and then "rationalize" our surrender by calling it a vindication of justice.
---
---
⇧ Back to top
---