The History of the Peloponnesian War
Thucydides
---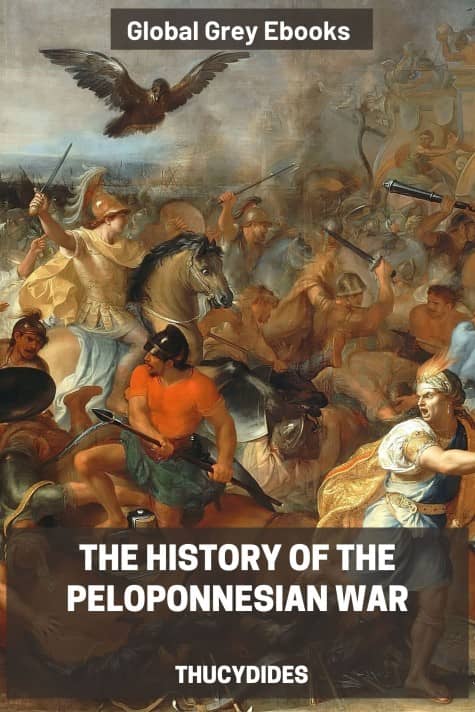 Free download available in PDF, epub, mobi, and AZW3 e-book formats. Or read online. Skip straight to downloads.
Description
This is a historical account of the Peloponnesian war, which was fought between Sparta and Athens in Ancient Greece (431 - 404 BC). The war ended with Sparta being established as the leading power of Greece. It also brought about the devastation of Athens, as well as widespread poverty. Thucydides was an Athenian historian who was also a general during the war. This book is regarded as one of the earliest scholarly works of history, and in contrast to Herodotus, Thucydides uses a strict standard of chronology. He also differs from Herodotus in that he doesn't mention the role of the gods.
The book is divided into eight sections. Chapter subjects include: The State Of Greece From The Earliest Times To The Commencement Of The Peloponnesian War; Causes Of The War; Congress Of The Peloponnesian Confederacy At Lacedaemon; From The End Of The Persian To The Beginning Of The Peloponnesian War; Preparations For War And Diplomatic Skirmishes; First Invasion Of Attica; Fall Of Potidaea; Naval Victories Of Phormio; Revolt Of Mitylene; Trial And Execution Of The Plataeans; Campaigns Of Demosthenes In Western Greece; Surrender Of The Spartan Army In Sphacteria; End Of Corcyraean Revolution; Invasion Of Boeotia; Death Of Cleon And Brasidas; League Of The Mantineans, Eleans, Argives, And Athenians; Fate Of Melos; The Sicilian Campaign; Story Of Harmodius And Aristogiton; Inaction Of The Athenian Army; Arrival Of Gylippus At Syracuse; Arrival Of Demosthenes; Retreat And Annihilation Of The Athenian Army; Revolt Of Ionia; Intrigues Of Alcibiades; Patriotism Of The Army At Samos; and, Revolt Of Euboea And Downfall Of The Four Hundred.
Part of the Encyclopaedia Britannica's Great Books of the Western World set.
This book has 301 pages in the PDF version. This translation by Richard Crawley was originally published in 1874.
Production notes: This e-book of The History of the Peloponnesian War was published by Global Grey ebooks on the 20th June 2019, and updated on the 21st April 2021. The artwork used for the cover is 'Arbela (Battle Scene)' by Charles Le Brun.
Download for e-readers (below donate buttons)
I run this site entirely on my own. I know times are hard right now, but if you can, please donate a small amount of £1 or $1, so I can continue offering these free e-books to everyone. To all the people who have supported the site - a massive thank you!
The buttons below are set in British Pounds currency - click here if you would prefer to donate in USD, CAD, or AUD.