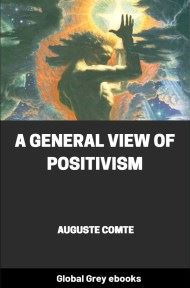 A General View of Positivism
Auguste Comte
Format: Global Grey free PDF, epub, Kindle ebook
Pages (PDF): 325
Publication Date: This translation by J. H. Bridges, 1907
Download Links:
I run this site (and create these ebooks) by myself. Please help out by making a small payment donation of £1, or whatever you can, for this book. It only takes a minute and you don't need a PayPal account.
PDF
ePub
Kindle
Stripe(£GBP):
Summary:
Although the philosophical theory of positivism has long been in the history of western thought, it was August Comte who formulated this modern approach. Positivism holds that society operates according to general laws and that concepts such as introspection and intuition are to be rejected (as are metaphysics and theology), as they cannot be verified by sense experience. In this book, Comte describes the six major features of the system of this philosophy, going into detail about such things as education, flags, the role of the arts, etc. Chapters include: The Intellectual Character Of Positivism; The Social Aspect Of Positivism, As Shown By Its Connexion With The General Revolutionary Movement Of Western Europe; The Action Of Positivism Upon The Working Classes; The Influence Of Positivism Upon Women; The Relation Of Positivism To Art; and, The Religion Of Humanity.
More books you might like:
Excerpt:
The object of all true Philosophy is to frame a system which shall comprehend human life under every aspect, social as well as individual. It embraces, therefore, the three kinds of phenomena of which our life consists: Thoughts, Feelings, and Actions. Under all these aspects, the growth of Humanity is primarily spontaneous; and the basis upon which all wise attempts to modify it should proceed, can only be furnished by an exact acquaintance with the natural process. We are, however, able to modify this process systematically; and the importance of this is extreme, since we can thereby greatly diminish the partial deviations, the disastrous delays, and the grave inconsistencies to which so complex a growth would be liable were it left entirely to itself. To effect this necessary intervention is the proper sphere of politics. But a right conception cannot be formed of it without the aid of the philosopher, whose business it is to define and amend the principles on which it is conducted. With this object in view the philosopher endeavours to coordinate the various elements of man's existence, so that it may be conceived of theoretically as an integral whole. His synthesis can only be valid in so far as it is an exact and complete representation of the relations naturally existing. The first condition is therefore that these relations be carefully studied. When the philosopher, instead of forming such a synthesis, attempts to interfere more directly with the course of practical life, he commits the error of usurping the province of the statesman, to whom all practical measures exclusively belong. Philosophy and Politics are the two principal functions of the great social organism. Morality, systematically considered, forms the connecting link and at the same time the line of demarcation between them. It is the most important application of philosophy, and it gives a general direction to polity. Natural morality, that is to say the various emotions of our moral nature, will, as I have shown in my previous work, always govern the speculations of the one and the operations of the other. This I shall explain more fully.

But the synthesis, which it is the social function of Philosophy to construct, will neither be real nor permanent, unless it embraces every department of human nature, whether speculative, effective, or practical. These three orders of phenomena react upon each other so intimately, that any system which does not include all of them must inevitably be unreal and inadequate. Yet it is only in the present day, when Philosophy is reaching the positive stage, that this which is her highest and most essential mission can be fully apprehended.

The theological synthesis depended exclusively upon our affective nature; and this is owing its original supremacy and its ultimate decline. For a long time its influence over all our highest speculations was paramount. This was especially the case during the Polytheistic period, when Imagination and Feeling still retained their sway under very slight restraint from the reasoning faculties. Yet even during the time of its highest development, intellectually and socially, theology exercised no real control over practical life. It reacted, of course, upon it to some extent, but the effects of this were in most cases far more apparent than real. There was a natural antagonism between them, which though at first hardly perceived, went on increasing till at last it brought about the entire destruction of the theological fabric. A system so purely subjective could not harmonize with the necessarily objective tendencies and stubborn realities of practical life. Theology asserted all phenomena to be under the dominion of Wills more or less arbitrary: whereas in practical life men were led more and more clearly to the conception of invariable Laws. For without laws human action would have admitted of no rule or plan. In consequence of this utter inability of theology to deal with practical life, its treatment of speculative and even of moral problems was exceedingly imperfect, such problems being all more or less dependent on the practical necessities of life. To present a perfectly synthetic view of human nature was, then, impossible as long as the influence of theology lasted; because the Intellect was impelled by Feeling and by the Active powers in two totally different directions. The failure of all metaphysical attempts to form a synthesis need not be dwelt upon here. Metaphysicians, in spite of their claims to absolute truth, have never been able to supersede theology in questions of feeling, and have proved still more inadequate in practical questions. Ontology, even when it was most triumphant in the schools, was always limited to subjects of a purely intellectual nature; and even here its abstractions, useless in themselves, dealt only with the case of individual development, the metaphysical spirit being thoroughly incompatible with the social point of view. In my work on Positive Philosophy I have clearly proved that it constitutes only a transitory phase of mind, and is totally inadequate for any constructive purpose. For a time it was supreme; but its utility lay simply in its revolutionary tendencies. It aided the preliminary development of Humanity by its gradual inroads upon Theology, which, though in ancient times entrusted with the sole direction of society, had long since become in every respect utterly retrograde.

But all Positive speculations owe their first origin to the occupations of practical life; and, consequently, they have always given some indication of their capacity for regulating our active powers, which had been omitted from every former synthesis. Their value in this respect has been and still is materially impaired by their want of breadth, and their isolated and incoherent character; but it has always been instinctively felt. The importance that we attach to theories which teach the laws of phenomena, and give us the power of prevision, is chiefly due to the fact that they alone can regulate our otherwise blind action upon the external world. Hence it is that while the Positive spirit has been growing more and more theoretical, and has gradually extended to every department of speculation, it has never lost the practical tendencies which it derived from its source; and this even in the case of researches useless in themselves, and only to be justified as logical exercises.
---
---
⇧ Back to top
---