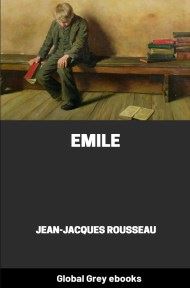 Emile
Jean-Jacques Rousseau
Format: Global Grey free PDF, epub, Kindle ebook, or read online
Pages (PDF): 569
Publication Date: 1763, this is a translation by Barbara Foxley
Download Links (below donate buttons):
Stripe:
---
PDF
ePub
Kindle
Online
Summary:
Emile, or On Education, is a treatise on the nature of education and on the nature of man, which tackles fundamental political and philosophical questions about the relationship between the individual and society. The text is divided into five books: the first three are dedicated to the child Emile, the fourth to an exploration of the adolescent, and the fifth to outlining the education of his female counterpart Sophie, as well as to Emile's domestic and civic life.
More free ebooks:
Excerpt:
God makes all things good; man meddles with them and they become evil. He forces one soil to yield the products of another, one tree to bear another's fruit. He confuses and confounds time, place, and natural conditions. He mutilates his dog, his horse, and his slave. He destroys and defaces all things; he loves all that is deformed and monstrous; he will have nothing as nature made it, not even man himself, who must learn his paces like a saddle-horse, and be shaped to his master's taste like the trees in his garden. Yet things would be worse without this education, and mankind cannot be made by halves. Under existing conditions a man left to himself from birth would be more of a monster than the rest. Prejudice, authority, necessity, example, all the social conditions into which we are plunged, would stifle nature in him and put nothing in her place. She would be like a sapling chance sown in the midst of the highway, bent hither and thither and soon crushed by the passers-by.

Tender, anxious mother, I appeal to you. You can remove this young tree from the highway and shield it from the crushing force of social conventions. Tend and water it ere it dies. One day its fruit will reward your care. From the outset raise a wall round your child's soul; another may sketch the plan, you alone should carry it into execution. Plants are fashioned by cultivation, man by education. If a man were born tall and strong, his size and strength would be of no good to him till he had learnt to use them; they would even harm him by preventing others from coming to his aid; left to himself he would die of want before he knew his needs. We lament the helplessness of infancy; we fail to perceive that the race would have perished had not man begun by being a child.

We are born weak, we need strength; helpless, we need aid; foolish, we need reason. All that we lack at birth, all that we need when we come to man's estate, is the gift of education.

This education comes to us from nature, from men, or from things. The inner growth of our organs and faculties is the education of nature, the use we learn to make of this growth is the education of men, what we gain by our experience of our surroundings is the education of things.

Thus we are each taught by three masters. If their teaching conflicts, the scholar is ill-educated and will never be at peace with himself; if their teaching agrees, he goes straight to his goal, he lives at peace with himself, he is well-educated.

Now of these three factors in education nature is wholly beyond our control, things are only partly in our power; the education of men is the only one controlled by us; and even here our power is largely illusory, for who can hope to direct every word and deed of all with whom the child has to do.

Viewed as an art, the success of education is almost impossible, since the essential conditions of success are beyond our control. Our efforts may bring us within sight of the goal, but fortune must favour us if we are to reach it.

What is this goal? As we have just shown, it is the goal of nature. Since all three modes of education must work together, the two that we can control must follow the lead of that which is beyond our control. Perhaps this word Nature has too vague a meaning. Let us try to define it.
---
---
⇧ Back to top
---