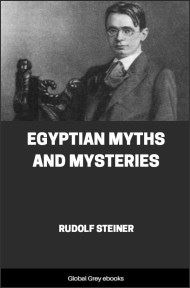 Egyptian Myths and Mysteries
Format: Global Grey free PDF, epub, Kindle ebook
Pages (PDF): 135
Publication Date: 1908
Download Links (below donate buttons):
Stripe:
---
PDF
ePub
Kindle
Summary:
This book is made up of a series of lectures which Steiner gave in September 1908. There are 12 lectures in all, covering things like the stages of evolution, the mysteries of the planets, Atlantis, old initiation centres and spiritual connections between ancient and modern times. He links all this to ancient Egyptian practices and beliefs with the penultimate lecture being the Egyptian doctrine of evolution.
More free ebooks:
Excerpt:
If we ask ourselves what spiritual science should be for men, then presumably, out of all sorts of reactions and feelings that we have developed in the course of our work in this field, we will place the following answer before our souls: Spiritual science should be for us a path to the higher development of our humanity, of all that is human in us. Thus we set up a life-aim, which in a certain way is self-understood for every thinking and feeling person, a life-aim that includes the achieving of the highest ideals and also includes the unfolding of the deepest and most significant forces in our souls. The best men in all ages have asked themselves how man can rightly bring to expression what lies within him, and to this question the most diverse answers have been given. Perhaps none can be found that is terser or more telling than the answer Goethe gave out of a deep conviction in his Geheimnisse:

"From the power that binds all beings
That man frees himself who overcomes himself."

Deep meaning lies in these words, for they show us clearly and pregnantly what lies at the heart of all evolution. This is that man develops his inner feeling through rising above himself. Thereby we lift ourselves, so to speak, above ourselves. The soul that overcomes itself finds the path that leads beyond itself to the highest treasures of humanity. This lofty goal of spiritual research should be borne in mind when we undertake to treat such a theme as the one that is to occupy us here. It will lead us beyond the ordinary horizons of life to sublime things. We will have to survey wide reaches of time if we take as our subject an epoch stretching from ancient Egypt down to our own day. We will have to pass millennia in review, and what we gain therefrom will really be something connected with the deepest concerns of our souls, something that grips our innermost soul-life. Only apparently does the man who strives toward the heights of life remove himself from his immediate surroundings; just through this he comes to an understanding of his daily concerns. Man must get away from the troubles of the day, from what his routine brings to him, and look up to the great events of the history of the world and its peoples. Then for the first time he finds what is most sacred for his soul. It may seem strange to suggest that connections, intimate connections, should be sought for between our own time and ancient Egypt, when the mighty pyramids and the Sphinx appeared. It can at first seem remarkable that one should understand his own time better by directing his gaze so far back. But just for this purpose we are going to look backward over much wider and more comprehensive epochs. This will bring the result we seek: The possibility of transcending ourselves. To one who has already carefully studied the ideas of spiritual science, it will not seem strange that one should look for a connection between widely separated periods of time. It is one of our basic convictions that the human soul continually returns, that the experiences between birth and death occur repeatedly for us. The doctrine of reincarnation has become ever more familiar to us. When we reflect on this we may ask: Since these souls that dwell in us today have often been here before, is it possible that they were also present in ancient Egypt during Egyptian cultural epoch, that the same souls are in us which at that time looked up at the gigantic pyramids and the enigmatic Sphinxes?

The answer to this question is, Yes. Our souls have beheld the old cultural monuments that they see again today. The same souls that lived then have gone through later periods and have appeared again in our own time. We know that no life remains without fruit; we know that what the soul has gone through in the way of experiences remains within it and appears in later incarnations as powers, temperament, capacities, and dispositions. Thus the way we look on nature today, the way we take up what our times bring forth, the way we view the world, all this was prepared in ancient Egypt, in the land of the pyramids. We were then prepared in such a way that we now look at the physical world as we do. Just how these widely separated periods link themselves together is what we will now explore.

If we want to grasp the deeper meaning of these lectures, we must go a long way back in earthly evolution, We know that our earth has often changed. Before ancient Egypt there were still other cultures. By means of occult research we can see much further back into the gray primeval times of human evolution, and we come to times when the earth appeared quite other than it is today. Things were entirely different in ancient Asia and Africa. If we look back clairvoyantly into primeval times, we come to a point where a tremendous catastrophe, caused by water-forces, took place on our earth and fundamentally altered its face. If we go still further back, we reach a time when the earth had an entirely different physiognomy, when what now forms the floor of the Atlantic Ocean, between Europe and America, was above water, was land. We come to a time when our souls lived in entirely different bodies than today; we reach ancient Atlantis, of which our external science can as yet say little.
---
---
⇧ Back to top
---