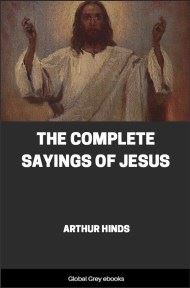 The Complete Sayings of Jesus
Arthur Hinds
Format: Global Grey free PDF, epub, Kindle ebook
Pages (PDF): 268
Publication Date: 1927
Download Links:
I run this site (and create these ebooks) by myself. Please help out by making a small payment donation of £1, or whatever you can, for this book. It only takes a minute and you don't need a PayPal account.
PDF
ePub
Kindle
Stripe(£GBP):
Summary:
This is an attempt to edit the four gospels into a consistent account, in this case focusing on the words of Jesus. There is plenty of connecting narrative around the instances where Jesus speaks, so this is better than simply presenting each quote out of context. The focus on what Jesus is attributed as saying makes it easier to browse the core texts of the New Testament. All in all, a very useful reference.
More books you might like:
Excerpt:
FROM NARRATIVES OF MATTHEW AND LUKE

Matthew 1, 1-2; 6-7; 11-12; 16-17.

THE book of the generation of Jesus Christ, the son of David, the son of Abraham:

Abraham begat Isaac; and Isaac begat . . . .

. . .. And Jesse begat David the king; and David the king begat Solomon; and Solomon begat . . . .

. . .. And Josias begat Jechonias and his brethren, about the time they were carried away to Babylon; and Jechonias begat . . . .

. . .. And Jacob begat Joseph the husband of Mary, of whom was born Jesus who is called Christ.

So all the generations from Abraham to David are fourteen generations; and from David until the carrying away into Babylon are fourteen generations; and from the carrying away into Babylon unto Christ are fourteen generations.

Luke 2, 1-12; 16-21.

It came to pass in those days, that there went out a decree from Cesar Augustus, that all the world should be taxed. And all went to be taxed, every one into his own city.

Joseph also went up from Galilee, out of the city of Nazareth, into Judea, unto the city of David which is called Bethlehem (because he was of the house and lineage of David), to be taxed with Mary his espoused wife, being great with child.

So it was, that, while they were there, the days were accomplished that she should be delivered. She brought forth her firstborn son, and wrapped him in swaddling clothes, and laid him in a manger; because there was no room for them in the inn. Dec. B.C. 5.

There were in the same country shepherds abiding in the field, keeping watch over their flock by night. And, lo, the angel of the Lord came upon them, and said, Behold, I bring you good tidings of great joy, which shall be to all people. For unto you is born this day in the city of David a Savior, which is Christ the Lord. Ye shall find the babe wrapped in swaddling clothes, lying in a manger.

And they came with haste, and found Mary, and Joseph, and the babe lying in a manger.

When eight days were accomplished for the circumcising of the child, his name was called JESUS, which was so named of the angel before he was conceived in the womb.

****************

FROM MATTHEW'S NARRATIVE

B.C. 4

Matthew 2, 1-5; 7-15; 19-23.

NOW when Jesus was born in Bethlehem of Judea in the days of Herod the king, behold, there came wise men from the east to Jerusalem, saying, Where is he that is born King of the Jews? for we have seen his star in the east, and are come to worship him.

When Herod the king had heard these things, he was troubled. And when he had gathered the chief priests and scribes of the people together, he demanded of them where Christ should be born. They said, In Bethlehem of Judea.

Then Herod privily called the wise men, and inquired of them what time the star appeared. He sent them to Bethlehem, and said, Search diligently for the child; and when ye have found him, bring me word, that I may come and worship him also.

The wise men departed; and, lo, the star, which they saw in the east, went before them, till it stood over where the child was. They rejoiced with exceeding great joy. And when they saw the child with Mary his mother, they worshipped him: and they opened their treasures, and presented unto him gifts, gold, and frankincense, and myrrh. Warned of God in a dream that they should not return to Herod, the wise men departed into their own country another way.

When the wise men were departed, behold, the angel of the Lord appeareth to Joseph in a dream, saying, Arise, take the child and his mother, and flee into Egypt and be thou there until I bring thee word: for Herod will seek the child to destroy him.

Joseph arose, took the child and his mother by night, and departed into Egypt: and was there until the death of Herod.

When Herod was dead, behold, an angel of the Lord appeareth in a dream to Joseph in Egypt, saying, Arise, and take the child and his mother, and go into the land of Israel. But Joseph heard that Archelaus did reign in Judea in the room of his father Herod: he was afraid to go thither: he turned aside into the parts of Galilee: and he came and dwelt in Nazareth.
---
---
⇧ Back to top
---