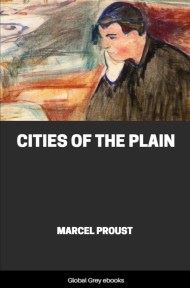 Cities of the Plain
Format: Global Grey free PDF, epub, Kindle ebook
Pages (PDF): 487
Publication Date: 1921-1922
Download Links:
I run this site on my own and spend a lot of time (and money) creating these ebooks. Please support the site by buying a collection; like the Fiction one for only £7 or by making a small donation using the buttons below.
PDF
ePub
Kindle
Stripe(£GBP):
Summary:
This is the fourth Volume in Proust's In Search of Lost Time, also translated as Sodom and Gomorrah. The Narrator reflects on the nature of "inverts", and how they are like a secret society, never able to live in the open.
More books you might like:
Excerpt:
As I was in no haste to arrive at this party at the Guermantes', to which I was not certain that I had been invited, I remained sauntering out of doors; but the summer day seemed to be in no greater haste than myself to stir. Albeit it was after nine o'clock, it was still the light of day that on the Place de la Concorde was giving the Luxor obelisk the appearance of being made of pink nougat. Then it diluted the tint and changed the surface to a metallic substance, so that the obelisk not only became more precious but seemed to have grown more slender and almost flexible. You imagined that you might have twisted it in your fingers, had perhaps already slightly distorted its outline. The moon was now in the sky like a section of orange delicately peeled although slightly bruised. But presently she was to be fashioned of the most enduring gold. Sheltering alone behind her, a poor little star was to serve as sole companion to the lonely moon, while she, keeping her friend protected, but bolder and striding ahead, would brandish like an irresistible weapon, like an Oriental symbol, her broad and marvellous crescent of gold.

Outside the mansion of the Princesse de Guermantes, I met the Duc de Châtellerault; I no longer remembered that half an hour earlier I had still been persecuted by the fear — which, for that matter, was speedily to grip me again — that I might be entering the house uninvited. We grow uneasy, and it is sometimes long after the hour of danger, which a subsequent distraction has made us forget, that we remember our uneasiness. I greeted the young Duke and made my way into the house. But here I must first of all record a trifling incident, which will enable us to understand something that was presently to occur.

There was one person who, on that evening as on the previous evenings, had been thinking a great deal about the Duc de Châtellerault, without however suspecting who he was: this was the usher (styled at that time the aboyeur) of Mme. de Guermantes. M. de Châtellerault, so far from being one of the Princess's intimate friends, albeit he was one of her cousins, had been invited to her house for the first time. His parents, who had not been on speaking terms with her for the last ten years, had been reconciled to her within the last fortnight, and, obliged to be out of Paris that evening, had requested their son to fill their place. Now, a few days earlier, the Princess's usher had met in the Champs-Elysées a young man whom he had found charming but whose identity he had been unable to establish. Not that the young man had not shewn himself as obliging as he had been generous. All the favours that the usher had supposed that he would have to bestow upon so young a gentleman, he had on the contrary received. But M. de Châtellerault was as reticent as he was rash; he was all the more determined not to disclose his incognito since he did not know with what sort of person he was dealing; his fear would have been far greater, although quite unfounded, if he had known. He had confined himself to posing as an Englishman, and to all the passionate questions with which he was plied by the usher, desirous to meet again a person to whom he was indebted for so much pleasure and so ample a gratuity, the Duke had merely replied, from one end of the Avenue Gabriel to the other: "I do not speak French."

Albeit, in spite of everything — remembering his cousin Gilbert's maternal ancestry — the Duc de Guermantes pretended to find a touch of Courvoisier in the drawing-room of the Princesse de Guermantes-Bavière, the general estimate of that lady's initiative spirit and intellectual superiority was based upon an innovation that was to be found nowhere else in her set. After dinner, however important the party that was to follow, the chairs, at the Princesse de Guermantes's, were arranged in such a way as to form little groups, in which people might have to turn their backs upon one another. The Princess then displayed her social sense by going to sit down, as though by preference, in one of these. Not that she was afraid to pick out and attract to herself a member of another group. If, for instance, she had remarked to M. Détaille, who naturally agreed with her, on the beauty of Mme. de Villemur's neck, of which that lady's position in another group made her present a back view, the Princess did not hesitate to raise her voice: "Madame de Villemur, M. Détaille, with his wonderful painter's eye, has just been admiring your neck." Mme. de Villemur interpreted this as a direct invitation to join in the conversation; with the agility of a practiced horsewoman, she made her chair rotate slowly through three quadrants of a circle, and, without in the least disturbing her neighbours, came to rest almost facing the Princess. "You don't know M. Détaille?" exclaimed their hostess, for whom her guest's nimble and modest tergiversation was not sufficient.

"I do not know him, but I know his work," replied Mme. de Villemur, with a respectful, engaging air, and a promptitude which many of the onlookers envied her, addressing the while to the celebrated painter whom this invocation had not been sufficient to introduce to her in a formal manner, an imperceptible bow. "Come, Monsieur Détaille," said the Princess, "let me introduce you to Mme. de Villemur." That lady thereupon shewed as great ingenuity in making room for the creator of the Dream as she had shewn a moment earlier in wheeling round to face him. And the Princess drew forward a chair for herself; she had indeed invoked Mme. de Villemur only to have an excuse for quitting the first group, in which she had spent the statutory ten minutes, and bestowing a similar allowance of her time upon the second. In three quarters of an hour, all the groups had received a visit from her, which seemed to have been determined in each instance by impulse and predilection, but had the paramount object of making it apparent how naturally "a great lady knows how to entertain." But now the guests for the party were beginning to arrive, and the lady of the house was seated not far from the door — erect and proud in her semi-regal majesty, her eyes ablaze with their own incandescence — between two unattractive Royalties and the Spanish Ambassadress.
---
---
⇧ Back to top
---