A Tangled Tale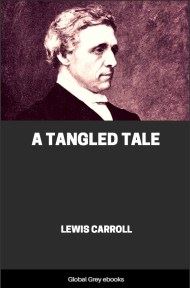 Format: Global Grey edition
Pages (PDF): 92
Publication Date: 1885
Illustrations: No
Available formats: Global Grey PDF
(Download link is just below book description)
Book Description:
A Tangled Tale is a collection of 10 brief humorous stories, published serially between April 1880 and March 1885 in The Monthly Packet magazine. The stories, or Knots as Carroll calls them, present mathematical problems. In a later issue, Carroll gives the solution to a Knot and discusses readers' answers. The mathematical interpretations of the Knots are not always straightforward. In the December 1885 book preface Carroll wrote: 'The writer's intention was to embody in each Knot (like medicine so dexterously, but ineffectually, concealed in the jam of our early childhood) one or more mathematical questions – in Arithmetic, Algebra, or Geometry, as the case might be – for the amusement, and possible edification, of the fair readers of that magazine.'
---
It took me about 90 minutes to make this book so you could download it within seconds.
Please remember, I run this site alone, and without your help, this site will struggle to continue. Small sites costs money to run too, and without your support, Amazon and other huge companies, will take over the world (probably). So please, if you have the means to do so, make a small contribution.
The recommended donation for this book is £0.79, but feel free to pay more or less (or more)
Donate with PayPal
Donate with your credit/debit card
Support the site using your PayPal account – or pay with your credit/debit card as a guest (no PayPal account needed).


Support the site using your credit/debit card via Donorbox, using the secure payment gateway, Stripe. (Donation box will open here in pop-up – no taking you away from the site).
I will be converting this into epub and Kindle ebook soon, but if you want it done now, contact me and I'll do it as soon as possible.
---