Siegfried and The Twilight of the Gods
By

Richard Wagner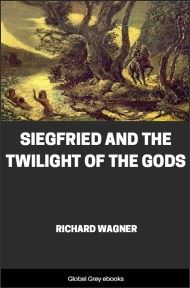 Format: Global Grey illustrated edition
Pages (PDF): 258
Publication Date: This translation by Margaret Armour, 1910, and with illustrations by Arthur Rackham
Illustrations: Yes
Available formats: PDF, epub, Kindle ebook
(Download links are just below the donate button)
Book Description:
With 30 beautiful colour illustrations, most of which are full page. In the second part of Margaret Armour's translation of possibly Wagner's best-known work 'The Ring of the Nibelung', the last two opera's in the cycle, 'Siegfried' and 'The Twilight of the Gods', are reproduced with colour plates by Arthur Rackham. Rackham's hauntingly dark illustrations, are perfectly suited to the drama – an epic story that charts the struggles of gods, heroes and mythical creatures loosely based on characters from the Norse sagas. 'Siegfried', the third of the four operas, is primarily inspired by the story of the legendary hero Sigurd in Norse mythology. This narrative is followed by the finale, 'Götterdämmerung' – the title of which is a translation into German of the Old Norse phrase 'Ragnarök', which in Norse mythology refers to a prophesied war among various beings and gods that ultimately results in the renewal of the world.
---
It took me about 6 hours to make this book so you could download it within seconds.
However, please remember I am but one woman trying to make a living with this site. So I expect my customers to be customers and help me out a little. Or a lot. You get the drift. Pay me…please 😀
The recommended donation for this book is £2.99, but feel free to pay more or less (or more)
Donate with PayPal
Donate with your credit/debit card
Support the site using your PayPal account – or pay with your credit/debit card as a guest (no PayPal account needed).


Support the site using your credit/debit card via Donorbox, using the secure payment gateway, Stripe. (Donation box will open here in pop-up – no taking you away from the site).
---