Science and Health, With Key to the Scriptures
By

Mary Baker Eddy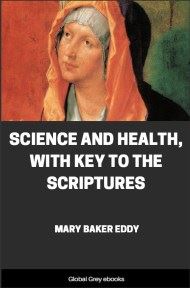 Format: Global Grey edition
Pages (PDF): 555
Publication Date: 1910
Illustrations: No
Available formats: Global Grey PDF
(Download link is just below book description)
Book Description:
From the Preface: 'To those leaning on the sustaining infinite, to-day is big with blessings. The wakeful shepherd beholds the first faint morning beams, ere cometh the full radiance of a risen day. So shone the pale star to the prophet shepherds; yet it traversed the night, and came where, in cradled obscurity, lay the Bethlehem babe, the human herald of Christ, Truth, who would make plain to benighted understanding the way of salvation through Christ Jesus, till across a night of error should dawn the morning beams and shine the guiding star of being.'
---
It took me about 7 hours to make this book so you could download it within seconds.
Please remember, I run this site alone, and without your help, this site will struggle to continue. Small sites costs money to run too, and without your support, Amazon and other huge companies, will take over the world (probably). So please, if you have the means to do so, make a small contribution.
The recommended donation for this book is £3.99, but feel free to pay more or less (or more)
Donate with PayPal
Donate with your credit/debit card
Support the site using your PayPal account – or pay with your credit/debit card as a guest (no PayPal account needed).


Support the site using your credit/debit card via Donorbox, using the secure payment gateway, Stripe. (Donation box will open here in pop-up – no taking you away from the site).
I will be converting this into epub and Kindle ebook soon, but if you want it done now, contact me and I'll do it as soon as possible.
---