The Root of the World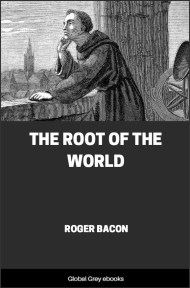 Format: Global Grey free PDF, epub, Kindle ebook
Pages (PDF): 20
(Download links are just below the donate button)
Book Description:
The operation of the alchemical elements in forty-seven revealing steps. The bodies of all natural things being as well perfect as imperfect from the original of time, and compounded of a quaternity of elements or natures, viz., fire, air, earth, water, are conjoined by God Almighty in a perfect unity. In these four elements is hid the secret of the philosophers. The earth and water give corporeity and visibility; the fire and air, the spirit and invisible power, which cannot be seen or touched but in the other two. When these four elements are conjoined, and made to exist in one, they become another thing; whence it is evident, that all things in nature are composed of the said elements, being altered and changed.
---
Donate with PayPal
Donate with your credit/debit card
Support the site using your PayPal account – or pay with your credit/debit card as a guest (no PayPal account needed).


Support the site using your credit/debit card via Donorbox, using the secure payment gateway, Stripe. (Donation box will open here in pop-up – no taking you away from the site).
---