A Romance of Two Worlds
By

Marie Corelli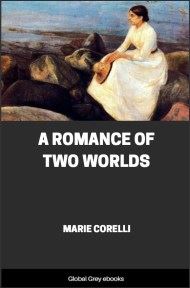 Format: Global Grey edition
Pages (PDF): 264
Publication Date: 1886
Illustrations: No
Available formats: PDF, epub, Kindle ebook
(Download links are just below the donate button)
Book Description:
A Romance of Two Worlds was Marie Corelli's first novel, published in 1886. It referenced the contemporary debate between creationism and evolution, as well as supernatural themes, overlaid with elements of science fiction. It starts with a young heroine, in first person, telling her story of a debilitating illness that includes depression and thoughts of suicide. Her doctor is unable to help her and sends her off on a holiday where she meets a mystical character by the name of Raffello Cellini, a famous Italian artist. Cellini offers her a strange potion which immediately puts her into a tranquil slumber, in which she experiences divine visions.
---
It took me about 3 hours to make this book so you could download it within seconds.
However, please remember I am but one woman trying to make a living with this site. So I expect my customers to be customers and help me out a little. Or a lot. You get the drift. Pay me…please 😀
The recommended donation for this book is £0.99, but feel free to pay more or less (or more)
Donate with PayPal
Donate with your credit/debit card
Support the site using your PayPal account – or pay with your credit/debit card as a guest (no PayPal account needed).


Support the site using your credit/debit card via Donorbox, using the secure payment gateway, Stripe. (Donation box will open here in pop-up – no taking you away from the site).
---