Old Cookery Books and Ancient Cuisine
By

William Carew Hazlitt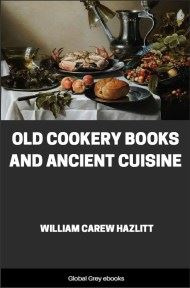 Format: Global Grey edition
Pages (PDF): 122
Publication Date: 1886
Illustrations: Yes, a couple
Available formats: Global Grey PDF
(Download link is just below book description)
Book Description:
A mixture of a history of cookery books and some recipes. From the Introduction: 'Man has been distinguished from other animals in various ways; but perhaps there is no particular in which he exhibits so marked a difference from the rest of creation — not even in the prehensile faculty resident in his hand — as in the objection to raw food, meat, and vegetables. He approximates to his inferior contemporaries only in the matter of fruit, salads, and oysters, not to mention wild-duck. He entertains no sympathy with the cannibal, who judges the flavour of his enemy improved by temporary commitment to a subterranean larder; yet, to be sure, he keeps his grouse and his venison till it approaches the condition of spoon-meat.'
---
It took me about 2 hours to make this book so you could download it within seconds.
However, please remember I am but one woman trying to make a living with this site. So I expect my customers to be customers and help me out a little. Or a lot. You get the drift. Pay me…please 😀
The recommended donation for this book is £0.99.
Donate with PayPal
Donate with your credit/debit card
Support the site using your PayPal account – or pay with your credit/debit card as a guest (no PayPal account needed).


Support the site using your credit/debit card via Donorbox, using the secure payment gateway, Stripe. (Donation box will open here in pop-up – no taking you away from the site).
I will be converting this into epub and Kindle ebook soon, but if you want it done now, contact me and I'll do it as soon as possible.
---