The New Dr. Price Cookbook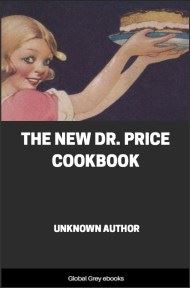 Format: Global Grey edition
Pages (PDF): 183
Publication Date: 1921
Illustrations: No
Available formats: Global Grey PDF
(Download link is just below book description)
Book Description:
From the Preface: 'In presenting these recipes great care has been exercised to select only those that will be popular in every home, in order that the new Dr. Price Cook Book will be useful every meal every day the year through. Herein will be found many famous recipes, made more appealing than ever by the use of Dr. Price's Phosphate Baking Powder—recipes that meet present-day conditions by economizing in eggs and other expensive ingredients. Here also are many new and unusual recipes, easily prepared by the beginner but so excellent that they will add new laurels even to the reputation of the expert, if perfection is maintained by the use of Dr. Price's Phosphate Baking Powder.'
---
It took me about 3 hours to make this book so you could download it within seconds.
However, please remember I am but one woman trying to make a living with this site. So I expect my customers to be customers and help me out a little. Or a lot. You get the drift. Pay me…please 😀
The recommended donation for this book is £1.99.
Donate with PayPal
Donate with your credit/debit card
Support the site using your PayPal account – or pay with your credit/debit card as a guest (no PayPal account needed).


Support the site using your credit/debit card via Donorbox, using the secure payment gateway, Stripe. (Donation box will open here in pop-up – no taking you away from the site).
I will be converting this into epub and Kindle ebook soon, but if you want it done now, contact me and I'll do it as soon as possible.
---