Mythical Monsters
By

Charles Gould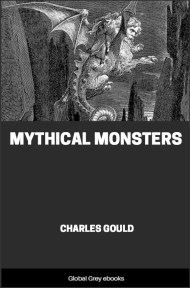 Format: Global Grey illustrated edition
Pages (PDF): 352
Publication Date: 1886
Illustrations: Yes
Available formats: Global Grey PDF
(Download link is just below book description)
Book Description:
With over 90 illustrations and extensive footnotes, this book is mostly about dragons; Western, Chinese, and Japanese, although it also covers the Sea-serpent, the Unicorn, and the Chinese Phoenix. The book actually starts off with a discussion of some other earth mysteries: the world-wide flood myth, cultural diffusion, and Atlantis; the cryptozoology material starts at Chapter VI. Translations from rare documents, and historical accounts from newspaper articles, make this a must-have book for anyone interested in this subject.
---
It took me about 6 hours to make this book so you could download it within seconds.
However, please remember I am but one woman trying to make a living with this site. So I expect my customers to be customers and help me out a little. Or a lot. You get the drift. Pay me…please 😀
The recommended donation for this book is £3.99, but feel free to pay more or less (or more)
Donate with PayPal
Donate with your credit/debit card
Support the site using your PayPal account – or pay with your credit/debit card as a guest (no PayPal account needed).


Support the site using your credit/debit card via Donorbox, using the secure payment gateway, Stripe. (Donation box will open here in pop-up – no taking you away from the site).
I will be converting this into epub and Kindle ebook soon, but if you want it done now, contact me and I'll do it as soon as possible.
---