More English Fairy Tales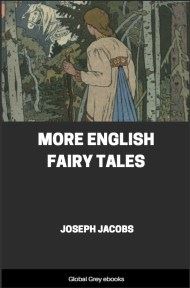 Format: Global Grey illustrated edition
Pages (PDF): 217
Publication Date: 1894
Illustrations: Yes
Available formats: Global Grey PDF
(Download link is just below book description)
Book Description:
Fully illustrated, this is a collection of 45 fairy tales. From the Preface: 'THIS volume will come, I fancy, as a surprise both to my brother folklorists and to the public in general. It might naturally have been thought that my former volume (English Fairy Tales) had almost exhausted the scanty remains of the traditional folk-tales of England. Yet I shall be much disappointed if the present collection is not found to surpass the former in interest and vivacity, while for the most part it goes over hitherto untrodden ground, the majority of the tales in this book have either never appeared before, or have never been brought between the same boards.'
---
It took me about 4 hours to make this book so you could download it within seconds.
Please remember, I run this site alone, and without your help, this site will struggle to continue. Small sites costs money to run too, and without your support, Amazon and other huge companies, will take over the world (probably). So please, if you have the means to do so, make a small contribution.
The recommended donation for this book is £2.99, but feel free to pay more or less (or more)
Donate with PayPal
Donate with your credit/debit card
Support the site using your PayPal account – or pay with your credit/debit card as a guest (no PayPal account needed).


Support the site using your credit/debit card via Donorbox, using the secure payment gateway, Stripe. (Donation box will open here in pop-up – no taking you away from the site).
I will be converting this into epub and Kindle ebook soon, but if you want it done now, contact me and I'll do it as soon as possible.
---