More English Fairy Tales
More English Fairy Tales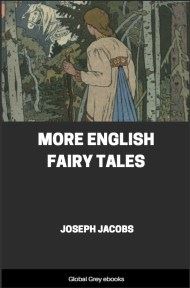 Format: Global Grey illustrated edition
Pages (PDF): 217
Publication Date: 1894
Illustrations: Yes
Details:
Pages (PDF): 217
Publication Date: 1894
Illustrations: Yes
About The Book: Fully illustrated, this is a collection of 45 fairy tales. From the Preface: 'THIS volume will come, I fancy, as a surprise both to my brother folklorists and to the public in general. It might naturally have been thought that my former volume (English Fairy Tales) had almost exhausted the scanty remains of the traditional folk-tales of England. Yet I shall be much disappointed if the present collection is not found to surpass the former in interest and vivacity, while for the most part it goes over hitherto untrodden ground, the majority of the tales in this book have either never appeared before, or have never been brought between the same boards.'
Chapter List
Preface
The Pied Piper
Hereafterthis
The Golden Ball
My Own Self
Black Bull of Norroway
Yallery Brown
Three Feathers
Sir Gammer Vans
Tom Hickathrift
The Hedley Kow
Gobborn Seer
Lawkamercyme
Tattercoats
The Wee Bannock
Johnny Gloke
Coat o' Clay
The Three Cows
The Blinded Giant
Scrapefoot
The Pedlar of Swaffham
The Old Witch
The Three Wishes
The Buried Moon
A Son of Adam
The Children in the Wood
The Hobyahs
A Pottle O' Brains
The King of England and his Three Sons
King John and the Abbot of Canterbury
Rushen Coatie
The King O' The Cats
Tamlane
The Stars in the Sky
News!
Paddock, Mousie, and Ratton
The Little Bull-Calf
The Wee, Wee Mannie
Habetrot and Scantlie Mab
Old Mother Wiggle-Waggle
Catskin
Stupid's Cries
The Lambton Worm
The Wise men of Gotham
Princess of Canterbury
Introductory Notes
Notes
---
Related Posts