Man's Place in the Universe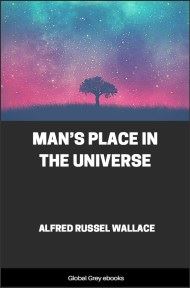 Format: Global Grey edition
Pages (PDF): 223
Publication Date: Third Edtion, 1904
Illustrations: No
Available formats: PDF, epub, Kindle ebook
(Download links are just below the donate button)
Book Description:
A study of the results of scientific research in relation to the unity or plurality of worlds. Chapters include: Early Ideas As To The Universe And Its Relation To Man; Modern Ideas As To Man's Relation To The Universe; The New Astronomy; The Distribution Of The Stars; Distance Of The Stars—The Sun's Motion Through Space; The Unity And Evolution Of The Star System; Are The Stars Infinite In Number?; Our Relation To The Milky Way; The Uniformity Of Matter And Its Laws Throughout The Stellar Universe; The Essential Characters Of The Living Organism; The Physical Conditions Essential For Organic Life; The Earth In Its Relation To The Development And Maintenance Of Life; The Earth In Relation To Life: Atmospheric Conditions; The Earth Is The Only Habitable Planet In The Solar System; The Stars—Have They Planetary Systems? Are They Beneficial To Us?; and, Stability Of The Star-System: Importance Of Our Central Position: Summary And Conclusion.
---
It took me about 4 hours to make this book so you could download it within seconds.
However, please remember I am but one woman trying to make a living with this site. So I expect my customers to be customers and help me out a little. Or a lot. You get the drift. Pay me…please 😀
The recommended donation for this book is £1.49, but feel free to pay more or less (or more)
Donate with PayPal
Donate with your credit/debit card
Support the site using your PayPal account – or pay with your credit/debit card as a guest (no PayPal account needed).


Support the site using your credit/debit card via Donorbox, using the secure payment gateway, Stripe. (Donation box will open here in pop-up – no taking you away from the site).
---