Lyrical Ballads
By

William Wordsworth and Samuel Taylor Coleridge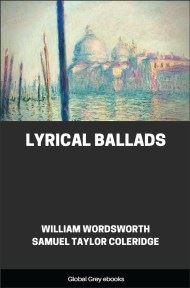 Format: Global Grey free PDF, epub, Kindle ebook
Pages (PDF): 111
Publication Date: 1798
(Download links are just below the donate button)
Book Description:
A collection of poems including: The Rime of the Ancyent Marinere; The Foster-Mother's Tale; Lines left upon a Seat in a Yew-tree which stands near the Lake of Esthwaite; The Nightingale, a Conversational Poem; The Female Vagrant; Goody Blake and Harry Gill; Lines written at a small distance from my House, and sent by my little Boy to the Person to whom they are addressed; Simon Lee, the old Huntsman; Anecdote for Fathers; We are seven; Lines written in early spring; The Thorn; The last of the Flock; The Dungeon; The Mad Mother; The Idiot Boy; Lines written near Richmond, upon the Thames, at Evening; Expostulation and Reply; The Tables turned; an Evening Scene, on the same subject; Old Man travelling; The Complaint of a forsaken Indian Woman; The Convict; and, Lines written a few miles above Tintern Abbey.
Most of the poems were written by Wordsworth, with Coleridge contributing only four poems to the collection, including one of his most famous works, The Rime of the Ancient Mariner. In the 'Advertisement' included in the 1798 edition, Wordsworth explained his poetical concept: 'The majority of the following poems are to be considered as experiments. They were written chiefly with a view to ascertain how far the language of conversation in the middle and lower classes of society is adapted to the purpose of poetic pleasure.'
---
It took me about 2 hours to make this book so you could download it within seconds.
However, please remember I am but one woman trying to make a living with this site. So I expect my customers to be customers and help me out a little. Or a lot. You get the drift. Pay me…please 😀
The recommended donation for this book is £0.99, but feel free to pay more or less (or more)
Donate with PayPal
Donate with your credit/debit card
Support the site using your PayPal account – or pay with your credit/debit card as a guest (no PayPal account needed).


Support the site using your credit/debit card via Donorbox, using the secure payment gateway, Stripe. (Donation box will open here in pop-up – no taking you away from the site).
---