The Last Crossing
By

Gladys Osborne Leonard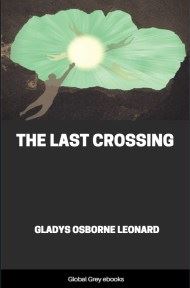 Format: Global Grey edition
Pages (PDF): 130
Publication Date: 1939
Illustrations: No
Available formats: PDF, epub, Kindle ebook
(Download links are just below the donate button)
Book Description:
Gladys Osborne Leonard was a British trance medium, renowned for her work with the Society for Psychical Research. This book discusses not only the after-life but also the point of death itself. Chapters include: The One Thing We Fear; Our Two Bodies; A Way Of Escape From The Web Of Life; Decay And "Whole-Ness"; When Death Approaches; "Rolling The Stone From The Grave Away"; "Every Calvary Has An Olivet"; Practical Methods Of Helping The Dying; The Last Hours; Fear Of Being Buried Alive; A Strange Experiment; Important Scientific Corroboration; Animals And Their Etheric Bodies; The Half-Way World; and more.
---
These books take me anywhere from 2 to 10 hours to create. Only a tiny minority of people donate (less than 1%), yet thousands of books are downloaded every day. There is no big company behind this site – it is just me, and I really need the support of my visitors to help keep this site running. So if you feel I have helped you by providing this ebook, please consider making a small donation payment of £1.00 or whatever you can.. Thanks – Julie 🙂
Donate with PayPal
Donate with your credit/debit card
Support the site using your PayPal account – or pay with your credit/debit card as a guest (no PayPal account needed).


Support the site using your credit/debit card via Donorbox, using the secure payment gateway, Stripe. (Donation box will open here in pop-up – no taking you away from the site).
---