The Knights of the Cross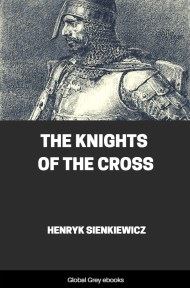 Format: Global Grey edition
Pages (PDF): 487
Publication Date: This translation by Samuel A. Binion, 1900
Illustrations: No
Available formats: Global Grey PDF
(Download link is just below the donate button)
Book Description:
The Knights of the Cross or The Teutonic Knights (Polish: Krzyżacy) is a 1900 historical novel written by Henryk Sienkiewicz. It tells the story of a young nobleman, Zbyszko of Bogdaniec, who together with his uncle Maćko of Bogdaniec returns from the war against the Order (Knights of the Cross) in nearby Lithuania. In a tavern inn Zbyszko falls in love with the lovely Danusia, who is traveling with the court of the Duchess Anna. He swears to her his knight's oath and promises to bring her 'three trophies' from the Teutonic Knights.
---
These books take me anywhere from 2 to 10 hours to create. Only a tiny minority of people donate (less than 1%), yet thousands of books are downloaded every day. There is no big company behind this site – it is just me, and I really need the support of my visitors to help keep this site running. So if you feel I have helped you by providing this ebook, please consider making a small donation payment of £1.00 or whatever you can.. Thanks – Julie 🙂
Donate with PayPal
Donate with your credit/debit card
Support the site using your PayPal account – or pay with your credit/debit card as a guest (no PayPal account needed).


Support the site using your credit/debit card via Donorbox, using the secure payment gateway, Stripe. (Donation box will open here in pop-up – no taking you away from the site).
I will be converting this into epub and Kindle ebook soon, but if you want it done now, contact me and I'll do it as soon as possible.
---