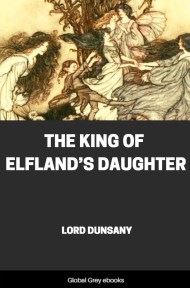 The King of Elfland's Daughter
Format: Global Grey free PDF, epub, Kindle ebook
Pages (PDF): 188
Publication Date: 1924
Download Links:
I run this site on my own and spend a lot of time (and money) creating these ebooks. Please support the site by buying a collection; like the Fiction (Genre) one for only £15 or by making a small donation using the buttons below.
PDF
ePub
Kindle
Stripe(£GBP):
Summary:
A 1924 fantasy novel written by Lord Dunsany. It is widely recognized as one of the most influential and acclaimed works in all of fantasy literature. The lord of Erl is told by the parliament of his people that they want to be ruled by a magic lord. Obeying the immemorial custom, the lord sends his son Alveric to fetch the King of Elfland's daughter, Lirazel, to be his bride. He makes his way to Elfland, where time passes at a rate far slower than the real world, and wins her. They return to Erl and have a son, but in the manner of fairy brides of folklore, she fits uneasily with his people. She returns to the waiting arms of her father in Elfland, and her lovesick husband goes searching for her, abandoning the kingdom of Erl and wandering in a now-hopeless quest. However, Lirazel becomes lonesome for her mortal husband and son. Seeing that she is unhappy, the King of Elfland uses a powerful magic to engulf the land of Erl. Erl is transformed into a part of Elfland, and Lirazel and her loved ones are reunited forever in an eternal, enchanted world.
More books you might like:
Excerpt:
In their ruddy jackets of leather that reached to their knees the men of Erl appeared before their lord, the stately white-haired man in his long red room. He leaned in his carven chair and heard their spokesman.

And thus their spokesman said.

"For seven hundred years the chiefs of your race have ruled us well; and their deeds are remembered by the minor minstrels, living on yet in their little tinkling songs. And yet the generations stream away, and there is no new thing."

"What would you?" said the lord.

"We would be ruled by a magic lord," they said.

"So be it," said the lord. "It is five hundred years since my people have spoken thus in parliament, and it shall always be as your parliament saith. You have spoken. So be it." And he raised his hand and blessed them and they went.

They went back to their ancient crafts, to the fitting of iron to the hooves of horses, to working upon leather, to tending flowers, to ministering to the rugged needs of Earth; they followed the ancient ways, and looked for a new thing. But the old lord sent a word to his eldest son, bidding him come before him.

And very soon the young man stood before him, in that same carven chair from which he had not moved, where light, growing late, from high windows, showed the aged eyes looking far into the future beyond that old lord's time. And seated there he gave his son his commandment.

"Go forth," he said, "before these days of mine are over, and therefore go in haste, and go from here eastwards and pass the fields we know, till you see the lands that clearly pertain to faery; and cross their boundary, which is made of twilight, and come to that palace that is only told of in song."

"It is far from here," said the young man Alveric.

"Yes," answered he, "it is far."

"And further still," the young man said, "to return. For distances in those fields are not as here."

"Even so," said his father.

"What do you bid me do," said the son, "when I come to that palace?"

And his father said: "To wed the King of Elfland's daughter."

The young man thought of her beauty and crown of ice, and the sweetness that fabulous runes had told was hers. Songs were sung of her on wild hills where tiny strawberries grew, at dusk and by early starlight, and if one sought the singer no man was there. Sometimes only her name was sung softly over and over. Her name was Lirazel.

She was a princess of the magic line. The gods had sent their shadows to her christening, and the fairies too would have gone, but that they were frightened to see on their dewy fields the long dark moving shadows of the gods, so they stayed hidden in crowds of pale pink anemones, and thence blessed Lirazel.

"My people demand a magic lord to rule over them. They have chosen foolishly," the old lord said, "and only the Dark Ones that show not their faces know all that this will bring: but we, who see not, follow the ancient custom and do what our people in their parliament say. It may be some spirit of wisdom they have not known may save them even yet. Go then with your face turned towards that light that beats from fairyland, and that faintly illumines the dusk between sunset and early stars, and this shall guide you till you come to the frontier and have passed the fields we know."

Then he unbuckled a strap and a girdle of leather and gave his huge sword to his son, saying: "This that has brought our family down the ages unto this day shall surely guard you always upon your journey, even though you fare beyond the fields we know."

And the young man took it though he knew that no such sword could avail him.

Near the Castle of Erl there lived a lonely witch, on high land near the thunder, which used to roll in Summer along the hills. There she dwelt by herself in a narrow cottage of thatch and roamed the high fields alone to gather the thunderbolts. Of these thunderbolts, that had no earthly forging, were made, with suitable runes, such weapons as had to parry unearthly dangers.

And alone would roam this witch at certain tides of Spring, taking the form of a young girl in her beauty, singing among tall flowers in gardens of Erl. She would go at the hour when hawk-moths first pass from bell to bell. And of those few that had seen her was this son of the Lord of Erl. And though it was calamity to love her, though it rapt men's thoughts away from all things true, yet the beauty of the form that was not hers had lured him to gaze at her with deep young eyes, till—whether flattery or pity moved her, who knows that is mortal?—she spared him whom her arts might well have destroyed and, changing instantly in that garden there, showed him the rightful form of a deadly witch. And even then his eyes did not at once forsake her, and in the moments that his glance still lingered upon that withered shape that haunted the hollyhocks he had her gratitude that may not be bought, nor won by any charms that Christians know. And she had beckoned to him and he had followed, and learned from her on her thunder-haunted hill that on the day of need a sword might be made of metals not sprung from Earth, with runes along it that would waft away, certainly any thrust of earthly sword, and except for three master-runes could thwart the weapons of Elfland.
---
---
⇧ Back to top
---