Jesus Christ Heals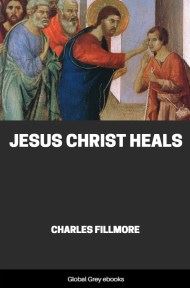 Format: Global Grey edition
Pages (PDF): 139
Publication Date: 1936
Illustrations: No
Available formats: Global Grey PDF
(Download link is just below the donate button)
Book Description:
From the Foreword: 'Much has been written and said about the healing methods that Jesus used in His very striking cures of physical ills. The generally accepted theory is that they were miracles, but to this there have been many objections, among them Jesus' promise "He that believeth on me, the works that I do shall he do also." So many millions have claimed that they believed on Jesus, yet not only have they failed to heal others but they have gloried in sickness and finally death under the assumption that it was the will of God.'
---
These books take me anywhere from 2 to 10 hours to create. Only a tiny minority of people donate (less than 1%), yet thousands of books are downloaded every day. There is no big company behind this site – it is just me, and I really need the support of my visitors to help keep this site running. So if you feel I have helped you by providing this ebook, please consider making a small donation payment of £1.00 or whatever you can.. Thanks – Julie 🙂
Donate with PayPal
Donate with your credit/debit card
Support the site using your PayPal account – or pay with your credit/debit card as a guest (no PayPal account needed).


Support the site using your credit/debit card via Donorbox, using the secure payment gateway, Stripe. (Donation box will open here in pop-up – no taking you away from the site).
I will be converting this into epub and Kindle ebook soon, but if you want it done now, contact me and I'll do it as soon as possible.
---