Idylls of the King
By

Alfred Tennyson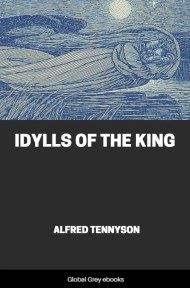 Format: Global Grey edition
Pages (PDF): 477
Publication Date: 1859
Illustrations: Yes
Available formats: PDF, epub, Kindle ebook
(Download links are just below the donate button)
Book Description:
Fully illustrated by Gustave Doré. Idylls of the King, published between 1859 and 1885, is a cycle of twelve narrative poems by the English poet Alfred, Lord Tennyson (1809–1892; Poet Laureate from 1850) which retells the legend of King Arthur, his knights, his love for Guinevere and her tragic betrayal of him, and the rise and fall of Arthur's kingdom. Chapters include: The Coming Of Arthur; Gareth And Lynette; The Marriage Of Geraint; Geraint And Enid; Balin And Balan; Merlin And Vivien; Lancelot And Elaine; The Holy Grail; Pelleas And Ettarre; The Last Tournament; Guinevere; The Passing Of Arthur; and, To The Queen.
---
These books take me anywhere from 2 to 10 hours to create. Only a tiny minority of people donate (less than 1%), yet thousands of books are downloaded every day. There is no big company behind this site – it is just me, and I really need the support of my visitors to help keep this site running. So if you feel I have helped you by providing this ebook, please consider making a small donation payment of £1.00 or whatever you can.. Thanks – Julie 🙂
Donate with PayPal
Donate with your credit/debit card
Support the site using your PayPal account – or pay with your credit/debit card as a guest (no PayPal account needed).


Support the site using your credit/debit card via Donorbox, using the secure payment gateway, Stripe. (Donation box will open here in pop-up – no taking you away from the site).
---