The History of Animals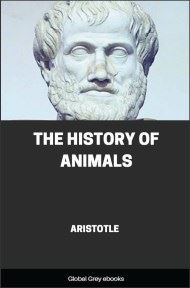 Format: Global Grey edition
Pages (PDF): 312
Publication Date: This translation by D'Arcy Wentworth Thompson, 1910
Illustrations: No
Available formats: Global Grey PDF
(Download link is just below book description)
Book Description:
The History of Animals is one of the major texts on biology by the ancient Greek philosopher Aristotle, written in the fourth century BC. Seen as a pioneering work of zoology, Aristotle frames his text by explaining that he is investigating the what (the existing facts about animals) prior to establishing the why (the causes of these characteristics). The book is thus an attempt to apply philosophy to part of the natural world. The book contains many accurate eye-witness observations, in particular of the marine biology around the island of Lesbos, such as that the octopus had colour-changing abilities and a sperm-transferring tentacle, that the young of a dogfish grow inside their mother's body, or that the male of a river catfish guards the eggs after the female has left. Some of these were long considered fanciful before being rediscovered in the nineteenth century. Aristotle has been accused of making errors, but some are due to misinterpretation of his text, and others may have been based on genuine observation. He did however make somewhat uncritical use of evidence from other people, such as travellers and beekeepers.
---
It took me about 4 hours to make this book so you could download it within seconds.
However, please remember I am but one woman trying to make a living with this site. So I expect my customers to be customers and help me out a little. Or a lot. You get the drift. Pay me…please 😀
The recommended donation for this book is £2.99, but feel free to pay more or less (or more)
Donate with PayPal
Donate with your credit/debit card
Support the site using your PayPal account – or pay with your credit/debit card as a guest (no PayPal account needed).


Support the site using your credit/debit card via Donorbox, using the secure payment gateway, Stripe. (Donation box will open here in pop-up – no taking you away from the site).
I will be converting this into epub and Kindle ebook soon, but if you want it done now, contact me and I'll do it as soon as possible.
---