The Hidden Side of Things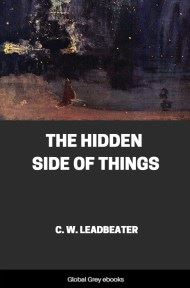 Format: Global Grey edition
Pages (PDF): 391
Publication Date: 1913
Illustrations: No
Available formats: PDF, epub, Kindle ebook
(Download links are just below the donate button)
Book Description:
25 Chapters, split into 5 sections; Introductory; How we are Influenced; How we Influence Ourselves; How we Influence Others; and, Conclusion. 'THE term ` occultism' is one which has been much misunderstood. In the mind of the ignorant it was, even recently, synonymous with magic, and its students were supposed to be practitioners of the black art, veiled in flowing robes of scarlet covered with cabalistic signs, sitting amidst uncanny surroundings with a black cat as a familiar, compounding unholy decoctions by the aid of satanic evocations.'
---
These books take me anywhere from 2 to 10 hours to create. Only a tiny minority of people donate (less than 1%), yet thousands of books are downloaded every day. There is no big company behind this site – it is just me, and I really need the support of my visitors to help keep this site running. So if you feel I have helped you by providing this ebook, please consider making a small donation payment of £1.00 or whatever you can.. Thanks – Julie 🙂
Donate with PayPal
Donate with your credit/debit card
Support the site using your PayPal account – or pay with your credit/debit card as a guest (no PayPal account needed).


Support the site using your credit/debit card via Donorbox, using the secure payment gateway, Stripe. (Donation box will open here in pop-up – no taking you away from the site).
---