The Gods of Pegana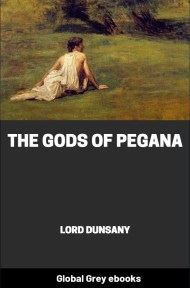 Format: Global Grey free PDF, epub, Kindle ebook
Pages (PDF): 62
Publication Date: 1905
(Download links are just below the donate button)
Book Description:
A collection of short stories linked by Dunsany's invented pantheon of deities who dwell in Pegāna. Stories are: Of Skarl the Drummer; Of the Making of the Worlds; Of the Game of the Gods; The Chaunt of the Gods; The Sayings of Kib; Concerning Sish; The Sayings of Slid; The Deeds of Mung; The Chaunt of the Priests; The Sayings of Limpang-Tung; Of Yoharneth-Lahai; Of Roon, the God of Going, and the Thousand Home Gods; The Revolt of the Home Gods; Of Dorozhand; The Eye in the Waste; Of The Thing That Is Neither God Nor Beast; Yonath the Prophet; Yug the Prophet; Alhireth-Hotep the Prophet; Kabok the Prophet; Of the Calamity that Befel Yun-Ilara by the Sea, and of the Building of the Tower of the Ending of Days; Of How the Gods Whelmed Sidith; Of How Imbaun Became High Prophet in Aradec of All the Gods Save One; Of How Imbaun Met Zodrak; Pegana; The Sayings of Imbaun; Of How Imbaun Spake of Death to the King; Of Ood; The River; and, The Bird of Doom and the End.
---
It took me about 90 minutes to make this book so you could download it within seconds.
However, please remember I am but one woman trying to make a living with this site. So I expect my customers to be customers and help me out a little. Or a lot. You get the drift. Pay me…please 😀
The recommended donation for this book is £0.79, but feel free to pay more or less (or more)
Donate with PayPal
Donate with your credit/debit card
Support the site using your PayPal account – or pay with your credit/debit card as a guest (no PayPal account needed).


Support the site using your credit/debit card via Donorbox, using the secure payment gateway, Stripe. (Donation box will open here in pop-up – no taking you away from the site).
---