The Gods of Pegana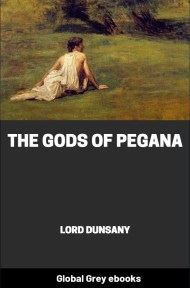 Format: Global Grey free PDF, epub, Kindle ebook
Pages (PDF): 62
Publication Date: 1905
(Download links are just below the donate button)
Book Description:
A collection of short stories linked by Dunsany's invented pantheon of deities who dwell in Pegāna. Stories are: Of Skarl the Drummer; Of the Making of the Worlds; Of the Game of the Gods; The Chaunt of the Gods; The Sayings of Kib; Concerning Sish; The Sayings of Slid; The Deeds of Mung; The Chaunt of the Priests; The Sayings of Limpang-Tung; Of Yoharneth-Lahai; Of Roon, the God of Going, and the Thousand Home Gods; The Revolt of the Home Gods; Of Dorozhand; The Eye in the Waste; Of The Thing That Is Neither God Nor Beast; Yonath the Prophet; Yug the Prophet; Alhireth-Hotep the Prophet; Kabok the Prophet; Of the Calamity that Befel Yun-Ilara by the Sea, and of the Building of the Tower of the Ending of Days; Of How the Gods Whelmed Sidith; Of How Imbaun Became High Prophet in Aradec of All the Gods Save One; Of How Imbaun Met Zodrak; Pegana; The Sayings of Imbaun; Of How Imbaun Spake of Death to the King; Of Ood; The River; and, The Bird of Doom and the End.
---
Reason to donate No 1: For every £1 donated, I will give one of my cats (chosen at random) a hug. Also, you are able to download this book (and all the others) without having to give me your email address. That has got to be worth something, right?
Donate with PayPal
Donate with your credit/debit card
Support the site using your PayPal account – or pay with your credit/debit card as a guest (no PayPal account needed).


Support the site using your credit/debit card via Donorbox, using the secure payment gateway, Stripe. (Donation box will open here in pop-up – no taking you away from the site).
---